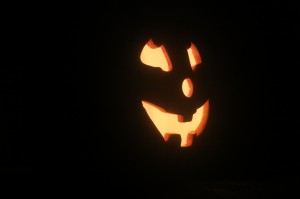 Clowns creep me out. They always have. Not the rodeo clowns with fun painted faces and red ball noses, but the clowns with masks and fixed artificial smiles, as well as the clowns that paint faces that are intended to scare or horrify. That's probably a subjective statement, because what may be scary to me might make you laugh or the other way around. I always thought that clowns were meant to be cheerful or goofy, but that has not been the case in certain parts of the country in the last couple of months. When the cops have to get involved, definitely not laughable.
Now, most likely as an unfortunate reaction to recent horror movies, clowns are being used for nefarious reasons. Since the end of August, people dressed up as clowns have been reported luring children into the woods with the promise of money, heard banging on doors, and standing on the road in the dark, looking creepy to passersby. The police are taking the threats/reports seriously, and actively follow up on the leads.
Some schools have banned the use of masks and even face paint for this year's Halloween celebrations, and many have banned clown costumes altogether.
Target and Wal-Mart have put away the clown costumes and/or masks for this year in reaction to the rise of menacing clown sightings. Their reasoning? Halloween is supposed to be fun, not dangerous, and neither company wants to fuel the actions of some misguided individuals. Other sources for costumes are selling out the clown outfits, however.
The clown craziness continues to make news as people posing as clowns take to social media, with tweets, hashtags, and Facebook pages that make threats, cause school lockdowns, and otherwise create havoc. Parents and school officials alike are perplexed as to the motivation behind the social media attacks, but are taking action to avoid any possible actual harm. Several arrests were made after people reported sightings or crimes involving a clown and they turned out to be hoaxes.
Law enforcement continues to investigate each new sighting, because as one officer said, "This is neither funny, nor cute." Sadly, one teenager lost his life in a stabbing as a result of a clown related incident.
Stay safe this Halloween and be aware of your surroundings. As always, don't send the children out alone, even in supposedly safe neighborhoods. A trusted adult should be in sight at all times.
Our town has a 'no mask' policy for the younger skeletons and princesses. That's a great idea, because the little ones are less likely to trip and fall if they can actually see where they're stepping.
Every year, our community center holds a Halloween party after school for kids who don't walk the neighborhood. A couple of police officers stop by to help out and show the crowd that cops are the good guys. Some local churches now host gatherings for the families in their congregations. Children hear the hype on TV, see the candy in the store, and want to join in, so supervised parties can be fun in some areas that aren't really right for trick-or-treating.
Best tip? Make sure the kids look both ways before crossing the street to get to the 'best candy' house on the other side. Getting hit by a car tops the list as the most dangerous thing that happens to children on Halloween.
http://www.miamiherald.com/news/nation-world/national/article102220587.html
http://www.cbsnews.com/news/clown-sightings-south-carolina-creepy-details-released/
http://www.kansas.com/news/local/education/article108863892.html
http://www.reuters.com/article/us-halloween-usa-clowns-idUSKCN12C12X
http://www.nytimes.com/2016/09/30/us/creepy-clown-hoaxes-arrests.html?_r=0
*No clown photos included, on purpose.
Save
Save
Save
Save
Please follow and like us: