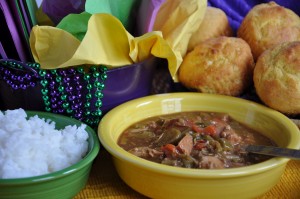 A friend of ours usually goes to New Orleans every year to celebrate Mardi Gras, but this year she had to miss it because of a work conflict. She loves the great food and the music, and has even thought of moving there. (I think she just wants to get away from all the snow and ice up here.) Since she couldn't go, we thought we'd have her over for dinner, cook up some gumbo, and get some lively New Orleans music streamed in.
She likes both seafood and meat gumbos, and our recipe combines both. I've been told that there are as many gumbo recipes as there are cooks to make it. Apparently, as long as celery, green bell peppers, and onions are the base, almost anything else can go into the pot.
Here's our version:

"Chicken and Sausage Gumbo"
Prep time:
Cook time:
Total time:
Ingredients
1 pound boneless, skinless chicken, cut into 1 inch chunks, and seasoned with salt
1 Tablespoon olive oil
½ pound Andouille sausage, cut into 1/2-inch chunks
½ pound smoked sausage, cut into 1/2 inch chunks
½ pound okra pods, sliced into 1/4 inch slices, stems removed (or 2 cups sliced, frozen okra)
1 teaspoon sea salt
1 teaspoon + 4 Tablespoons butter/canola spread
6 Tablespoons all-purpose flour
2 cups celery, chopped
1 cup diced onion
1 cup green bell pepper, seeded, then chopped into 1/4 " pieces
1 cup red bell pepper, seeded, then chopped into 1/4" pieces
2 Tablespoons minced garlic
2-3 cups low sodium chicken broth (2 cups for stew, 3 cups for soup)
1 Tablespoon Bay seasoning
(optional) 1/2 pound cooked, peeled, deveined shrimp
Cooked white rice
Instructions
Salt the chicken, all sides. In deepest pot you have, use 1 Tablespoon olive oil and sauté the chicken on medium high heat until golden brown – about 5 mins.
Add sausages and 1 Tablespoon chicken broth to the pot. Lower heat to medium-low, cover and cook for about 20 minutes, stirring occasionally to keep meat from sticking. Take off heat.
Meanwhile, sauté the okra with 1 teaspoon butter and ½ teaspoon sea salt in pan at medium high heat for 3-4 minutes. Remove from pan and set aside, including juices.
The Roux: In the sauté pan, melt 4 Tablespoons butter. Add the flour 1 Tablespoon at a time, stirring constantly on medium heat to mix thoroughly, until the roux is the color of dark caramel, but not burned - about 15 minutes. Drop the heat to low, then add the onion, stir constantly until softened, about 3-4 minutes. Add celery, bell peppers, 1/2 teaspoon sea salt, garlic and mix together until well-coated – about 5 minutes. Mixture will be thick.
Add vegetable mixture to the sausage/chicken pot and mix together.
Slowly add back in (stir after each cup) the okra, chicken broth, and Bay seasoning. Turn heat up long enough to bring mixture to a boil, then drop heat to medium low and simmer for 30 minutes, continuing to stir. Add salt to taste if needed.
If adding the cooked shrimp, drop it into the mixture and stir together, another 5 minutes.
Place cooked rice in bowl, then place gumbo on top. Serve with cornbread.
Enjoy!
*Photos by Patti Phillips
Save
Please follow and like us: