The Big Game should only be watched with nachos in hand. That's a given. But, what kind of nachos? Is there more than one kind? Turns out there are as many different kinds of nacho recipes as there are chili or stew recipes.
Movie nachos – the kind with the fake cheese poured on top of a mound of tortilla chips. Best I ever had were served in a theater in Texas. Soooooo good.
Home nachos – tortilla chips, salsa and shredded cheese piled on a plate, nuked in the microwave and then scooped up with the tortilla chips. Quick and easy; can be tossed together during a commercial break.
Party nachos – everything and the kitchen sink piled on a plate and scooped up with tortilla chips.
Super party nachos – a nacho casserole made with layers of anything the cook thinks goes together. Anything. The only constant being the tortilla chips at the bottom. You eat this with a fork. Or maybe a spoon.
Here's our version – hearty enough to be a meal and taste tested by a few football pals, and me, of course.  🙂

"Game Day Nachos"
Author:
Charlie & Sheila Kerrian
Prep time:
Cook time:
Total time:
Ingredients
15 oz can Goya black beans
1 teaspoon sea salt
1 1/4 lb ground beef
1 teaspoon chili spices (optional)
2.25 oz can sliced olives
12 oz. jar sliced Jalapeno peppers
4 cups shredded lettuce
4 cups shredded cheese (4 cheese Mexican)
15 oz jar Pace chunky Salsa
8 oz container guacamole
Sour cream
Large bag tortilla chips, Mission or Tostitos
Instructions
Drain 1/4 cup liquid from can of black beans. Pour remaining beans and liquid into food processor and pulse 2-3 times; not as smooth as hummus, but a little texture is great. Set aside.
Sprinkle sea salt evenly in the bottom of a large frying pan, add ground beef, break up and stir until browned. Drain off the extra fat.
Add pulsed beans to ground beef, mix together and heat through, stirring frequently. This is the time to add the optional chili spices.
While bean/meat mixture is heating, assemble the other ingredients and place in individual containers on the serving table.
Guests will be able to add as much or as little of each to their pile of nacho magic.
Sprinkle the cheese on top of the rest of the ingredients and stick in the microwave for twenty seconds. Make sure the plates are microwave safe.
Notes: Fresh salsa is great, but we can't always get flavorful, ripe tomatoes this time of year. As for guacamole? Again, fresh is great, but sometimes the fresh avocados are rock hard.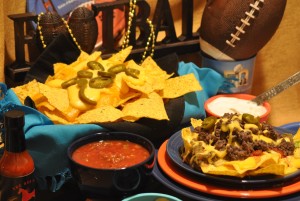 Optional Cheese sauce ingredients: if you want a creamy cheese sauce to pour over the chips –
Use a medium non-stick sauce pan

2 Tablespoons butter

3 Tablespoons flour

1.75 cups milk

2 cups shredded pepper jack or cheddar cheese
Prep:
Add butter to the sauce pan and melt on low-medium heat.

Slowly add flour and stir until well blended. It should pull away from the pan when ready.

Add 1/2 cup milk at a time, mixing constantly to keep lumps from forming. Bubbles will begin to form around the edges.

Add cheese 1/2 cup at a time, stirring until smooth and creamy. Pour over chips while hot.
Enjoy!
*Photos by Patti Phillips
Please follow and like us: