The temperatures are cooling off and comfort food takes center stage at our house. We fend off the chill with body warming soup and hearty sandwiches during the Fall and Winter, but every once in a while, we like mac & cheese. It works for lunch or dinner.
I like to taste test the new versions with different goodies added to the mix, but there is a basic recipe that Sheila uses (and even I can make) that is fail-safe. We sometimes prepare it ahead and serve it as a side dish if we're expecting a crowd.
A couple of thoughts: It looks like a lot of instructions, but you're boiling noodles, grating cheese, making a sauce, and putting it together in layers – like lasagna. No bodies were found while making the latest batch. Promise.  🙂

Here's our famous Mac & Cheese recipe:

Ingredients for noodles
1    8 oz box small elbow noodles
2 teaspoons sea salt
1 teaspoon butter or margarine for boiling water, to keep noodles from clumping
1 teaspoon butter for tossing noodles
Ingredients for white sauce
4 Tablespoons butter
5 Tablespoons flour
4 cups milk
1 teaspoon Sea Salt
pinch ground black pepper
Additional ingredients
12 oz. Sharp Cheddar, grated
2 cups Croutons, seasoned  (we use the garlic & herb variety)
Optional –  1 cup Bacon, crisp, crumbled
Optional –  Whole tomato
Preparation
Bring 1 and 1/2 quarts water to boil in a 3 quart pot, add 2 tsp. sea salt and stir.

Add dry noodles and 1 teaspoon margarine to boiling salted water and stir.

Boil noodles until fork tender, stirring frequently (about 20 mins).

Thoroughly drain the noodles, toss with 1 teaspoon butter, and set aside.
Preheat oven to 375.
While noodles are boiling, prepare the white sauce
In one quart pot, melt 4 Tablespoons butter on medium heat, being careful not to burn it.

Add 1 Tablespoon flour, 1 teaspoon sea salt, and stir until well blended.

Add 4 more Tablespoons flour, 1 Tablespoon at a time, stirring each until well-blended and the mixture pulls away from the sides of the pot.

Remove from heat.

Add 1 cup milk (1/4  cup at a time) stirring until smooth, without clumps.

Return to heat and gradually add 3 more cups milk, while stirring.
As the sauce thickens, stir to keep it from sticking to the pot and/or clumping.
It is ready when it is the consistency of creamy gravy.
Add pinch of black pepper.
Remove from heat and set aside. It will thicken a bit more while sitting.
Grate all of the cheese and set aside.

Use a 2-quart baking dish. You will be assembling the mac & cheese in layers (like lasagna).
Spread 1/4 cup of sauce on bottom of baking dish.
Spread 1/3 of the noodles in the bottom.
Spread 1/3 of the remaining white sauce on the noodles.
Sprinkle 1/3 of the cheese on top of the sauce.
Sprinkle 1/2 cup of the croutons on top of the cheese.
Repeat the layers twice more, but with the top layer, crumble the remaining croutons and spread evenly on top.
Bake at 375 until heated through and cheese is bubbly, about 20 minutes, no lid.
Serve with salad.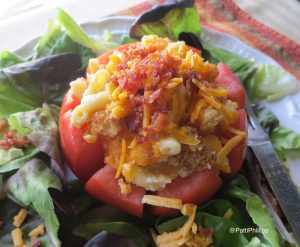 Options: 
Create a well in the center of a whole tomato and serve mac & cheese in it.
Sprinkle crumbled bacon on top of mac & cheese as a garnish.
Prep time: 1 hour
Cooking time:  20 minutes
Save
Save
Save
Save
Save
Save
Please follow and like us: