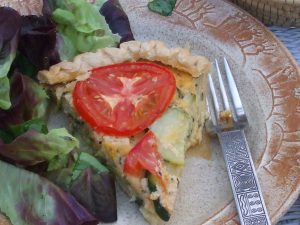 Deep-dish pie shell
1 stick margarine
1 Tbs. onion powder
4 cups thinly sliced zucchini (chopped broccoli crowns also work well)
1 Tbs. dried parsley
1/2 tsp. dried oregano
1 tsp. dried basil
2 jumbo eggs, beaten
1 1/4 cups low skim shredded mozzarella
1 3/4 cups shredded cheddar
1/2 tsp. garlic powder
1/2 tsp. sea salt (or to taste)
2 ripe sliced medium tomatoes
Pre-heat deep-dish pie shell for 6-8 minutes in 350 oven. Remove.
Melt margarine in large non-stick frying pan.
Add onion powder and zucchini, sauté 10 minutes, stirring until zucchini is heated through.
Add parsley, oregano and basil, stir briefly.
Add garlic powder and salt to taste.
Saute briefly, take off heat.
In medium bowl, mix eggs, mozzarella and sharp cheddar.
Add to mixture in pan, heat for 5 minutes on low heat, stirring until well blended.
Pour into deep-dish pie shell.
Arrange tomato slices on top.
Bake 30-40 minutes at 350 until firm in center and cheese is light golden brown on top.
Let cool for 10 minutes, then slice and serve with salad.