Visiting Detectives - Becki Green's Brownies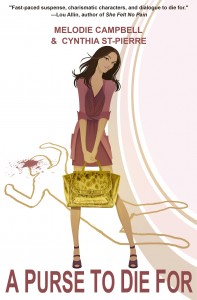 1 cup butter
3 oz unsweetened chocolate, chopped
1/2 cup cocoa
2-1/2 cups sugar
3 eggs
1 tbsp vanilla
1-1/2 cups flour
3/4 tsp salt
icing sugar
melted butter for parchment paper
Line a 9" X 13" baking pan with parchment paper, and brush with melted butter.
Preheat oven to 350º F.
In a large pot, on low heat, and watching carefully, melt together the butter and chocolate.
Remove from heat, and stir in the cocoa and sugar.
Add the eggs and vanilla, and beat until smooth.
Fold in the flour and salt.
Fill the prepared pan, smooth the top, and bake for 40 min.
Cool, run a knife around the edges, flip over on a cutting board, turn out, and while the Brownies are upside-down, cut into 16 servings.
Turn each brownie upside-right, and sift icing sugar on top.
Recipe by
Kerrian's Notebook
at https://pattiphillipsbooks.com/kerriansnotebook/2013/07/visiting-detectives-becki-green/