Kerrian's Notebook, p.112 "Chicken Vegetable Feta Stir-fry"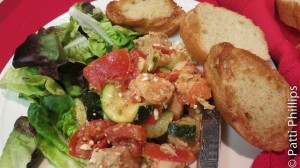 2 cooked chicken cutlets, cut into 1 inch chunks
2 cups raw zucchini, cut into 1 inch chunks
2 small tomatoes, cut into 1 inch chunks (about 2 cups)
1 Tablespoon olive oil
1 teaspoon onion powder
1 teaspoon garlic powder
1 teaspoon oregano
1 teaspoon fresh squeezed lemon juice
3 Tablespoons crumbled feta cheese
Saute chicken, spices and veggies in the olive oil, until heated through.
Tomato will start to disintegrate in about 8-10 minutes.
Stir frequently.
Add 2 tablespoons feta cheese and stir until cheese starts to melt.
Remove from heat and place directly on plates.
Sprinkle 1 tablespoon feta cheese over finished dish.
Serve warm.
Makes two generous portions.
Recipe by
Kerrian's Notebook
at https://pattiphillipsbooks.com/kerriansnotebook/2014/07/knr-p-112-chicken-veggie-feta-stir-fry/