"Cobbles for Stew"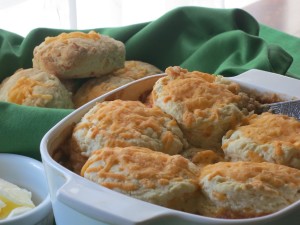 2 1/2 cups self-rising flour
1/2 teaspoon sea salt
4 Tablespoons butter or margarine
1 cup grated sharp cheddar cheese
1 teaspoon dried oregano (or rosemary, depending on the vegetable stew seasonings)
1 jumbo egg, slightly beaten
3/4 cup milk
Parchment paper
Aluminum cookie tray
Preheat oven to 425 degrees (F)
Mix the flour and salt together in a large bowl
Add the butter/margarine and mix together with a fork or pastry blender
Mix in 2/3 cup cheese and all the oregano (or rosemary). Set aside.
Place the milk in a small bowl.
Add the beaten egg to the milk and stir together.
Add 1 cup of milk-egg mixture to the dry ingredients and mix together to form a soft ball of dough.
Add more of the mixture if needed to include all the dry ingredients in the ball.
Roll out dough (on a lightly floured surface) to about a 1/2 inch thickness.
Use a lightly floured glass or lightly floured cookie cutter to cut two-inch circles.
Add the cobbles to the top of your stew.
Brush with leftover milk-egg and sprinkle the leftover cheese on top.
Bake at 425 degrees for 10-12 minutes or until golden brown.