"Sheila's Sun-Dried Tomato Dip"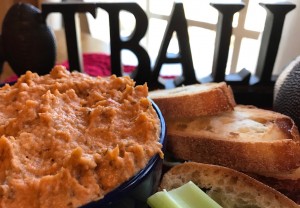 1 - 15 oz can Goya chickpeas
5 tablespoons chickpea water from the can
2 teaspoons chopped garlic
10 teaspoons roughly chopped sun-dried tomatoes in olive oil
½ teaspoon dried herbs de Provence
1 tablespoon extra virgin olive oil
½ teaspoon Celtic sea salt
Note: all the jars of sun-dried tomatoes in our store contained Italian spices. That's fine for this recipe, since they combine nicely with the herbs de Provence.
Drain the chickpeas into a small bowl, saving 5 Tablespoons chickpea water.
Mix the chickpeas, chickpea liquid and the rest of the ingredients together in a food processor until well combined. About 2-3 minutes.
Chill until ready to serve or serve immediately.
Serve with toasted baguette slices, celery, or pita chips.
Recipe by
Kerrian's Notebook
at https://pattiphillipsbooks.com/kerriansnotebook/2017/01/knr-p-190-sheilas-sun-dried-tomato-dip/