"Parmesan Basil Veggies"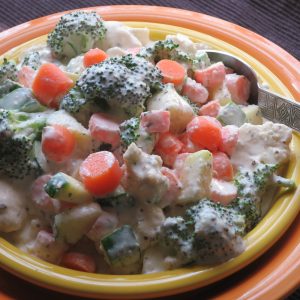 2 broccoli crowns, cut into small bite-sized pieces – about 2 cups
1/2 head cauliflower, cut into small bite-sized pieces – about 1 cup
1 medium zucchini, cut into 1/4 inch chunks, about 2 cups
2 cups finely chopped carrots - 1/4 inch chunks
2 cups grated Parmesan cheese
1 Tablespoon garlic powder
2 Tablespoons chopped dried basil leaves
1/4 cup vinegar
1.5 cups mayonnaise
1/2 cup sour cream
Place broccoli, cauliflower, zucchini, carrots, Parmesan cheese, garlic powder, and basil leaves into extra-large bowl.
Toss together until evenly mixed.
In separate bowl, mix together vinegar, mayonnaise, and sour cream until thoroughly blended.
Pour mayo mix over the vegetables and stir until the vegetables are well coated.
Chill in refrigerator for an hour before serving.
Garnish with carrot bits.