KN, p. 248 "Pumpkin Pancakes (GF)"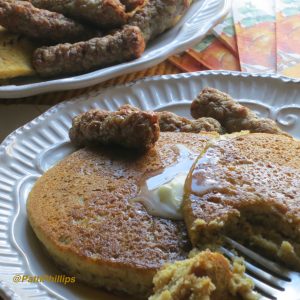 1/2 cup white rice flour
1.5 cups brown rice flour
1/2 cup fine ground Bob's Red Mill almond flour
1.5 teaspoons sea salt
1 teaspoon baking soda
2 teaspoons baking powder
1 teaspoon cinnamon
2 cups cold water
1/2 cup pureed organic pumpkin
3 Tablespoons canola oil or almond oil
1 teaspoon pure almond extract
1 extra-large egg (can be just the egg white), lightly beaten with fork
1 teaspoon softened margarine for coating frying pan – (butter will burn)
Whisk all dry ingredients together.
Slowly add water while whisking to keep the mixture from clumping.
Add pumpkin, oil, almond extract, and lightly beaten egg, and whisk until just combined.
Heat frying pan to medium, add margarine and spread to cover bottom of pan. As soon as margarine starts to bubble, begin to make pancakes with 4" circles of batter in the pan.
Flip when pancake edges begin to dry and surface bubbles. Done when lightly browned on both sides, about a minute or two each side, depending on the heat of your stovetop.
Remove to plate and serve immediately.
Recipe Tips

Want fluffier pancakes with this GF recipe? Do not overmix the batter.
Can be reheated in toaster.
Can be frozen, but separate each with foil before putting in freezer containers.
If left in pile on covered plate in refrigerator, can be kept for four days.
Recipe by
Kerrian's Notebook
at https://pattiphillipsbooks.com/kerriansnotebook/2019/11/knr-p-248-pumpkin-pancakes-gf/