"Easy Chicken Soup"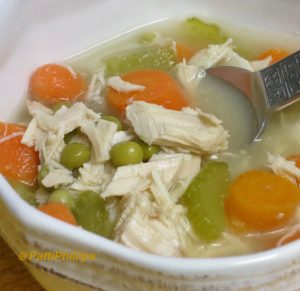 Author:
Charlie & Sheila Kerrian
1 32ounce box of low sodium chicken broth (Swanson's has a nice organic version)
1 teaspoon sea salt
1.5 cups sliced fresh baby carrots
1.5 cups diced fresh celery, 1/4 inch pieces
1 cup canned diced potatoes
1/2 cup potato water from diced potato can
1 heaping teaspoon garlic powder
1 heaping teaspoon onion powder
1 cooked rotisserie chicken
1/2 cup canned young sweet peas
In large soup pot, sprinkle sea salt evenly on bottom of pan.
Add carrots, celery, and one cup of the chicken broth, cover the pot and simmer on medium high heat until carrots and celery are tender, ten to fifteen minutes, stirring every five minutes.
While celery and carrots are simmering, chop the rotisserie chicken into 1/2 inch pieces, (about 3 cups) and set aside.
Reduce heat to medium, add diced potatoes, potato water, garlic powder, and onion powder to pot and stir.
Add 3 cups chicken broth to the pot and stir.
Add 3 cups chopped chicken to the pot and stir until well mixed.
Cover pot and heat soup mixture for about ten minutes until it bubbles around the edges, stirring occasionally.
Add peas to the pot, tossing gently, and heat another five minutes.
Remove from heat and serve with crusty bread or crackers.