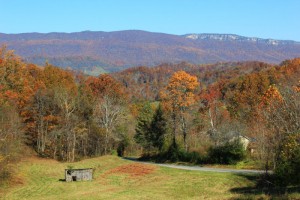 It's no secret that Sheila and I like to take a week here and there and see the sights around this great country of ours. This past Fall, we took the scenic route through the Great Smoky Mountains (part of the Appalachian range) to see the North Carolina cousins. I know, really long way around from the New York area, but the weather was great and it was a "why not?" kind of week.
The scenery was breathtaking and we pulled over lots of times to take pictures and soak it all in. When we finally left the Smokies, we stopped at a little spot called Minnie's Diner in Jackson Creek, North Carolina. The parking lot was packed, but that's usually a good sign, and we looked forward to mouth-watering, down-home cooking.
As we waited for the waitress to lead us to the only open booth, another couple came in behind us. She grabbed two menus from the counter for us, and spoke to the couple in typical small-town fashion. "Sheriff. Ava. Y'all doing okay?"
I glanced at the guy—long sleeve black shirt, rugby-type, tucked into black utility pants, a round patch on the shirt front reading Jackson County Sheriff. Below that, a bar with G. Ridge inscribed.
"Doing good," he answered the waitress for both of them. "Looks like it's standing room only today."
"The wait shouldn't be too long."
The waitress turned to lead me and Sheila to the booth, but I stopped and turned toward the couple. The badge meant he was okay with me. "Want to join us?" They looked surprised, but agreed right away.
We all slid into the booth – Ridge and Ava sitting across from us – and introduced ourselves. Ava and Ridge lived in the next town.
I'll let Ava Logan tell their story.
*****
"So let me get this straight," Charlie said, wagging a finger between Ridge and me. "You're the sheriff, and you're the publisher of the town newspaper?"
"Yes," we both answered.
Charlie nodded and asked, "Does it ever cause a problem?"
"Not at all." I must have answered too quickly because Ridge jerked his head around to glare at me. "Maybe. Sometimes," I conceded.
While Ridge and Charlie talked shop, Sheila and I chatted about their trip through the mountains. Born and raised in western North Carolina, I love hearing others' take on my part of the Appalachians. I smiled and declared that the scenic beauty is matched only by the people who called these hills and hollows home.
Although engaged in conversation with Sheila, I couldn't help but overhear Charlie ask, "So how many residents are there in Jackson Creek?"
"4,327," I answered. A hot blush crept up my cheeks as the Kerrians and Ridge looked at me like I always went around spouting random numbers. I mumbled a clarification, "Jackson Creek proper. I'm not sure about Jackson County." Somewhere near the fifty-thousand range, but it was Ridge's county. I thought he might want to answer.
The corner of Ridge's mouth arched upward in a slight grin. He turned back to Charlie. "Fifty-three thousand. Jackson Creek is the county seat. I'm sure that's a lot smaller than what you're used to."
Charlie answered with a smile, then turned to me. "Is there enough news in a town of four thousand to sustain a newspaper?"
"Oh, yeah. We do a lot of human interest features. And the occasional crime wave public service announcement."
He and Sheila laughed. Ridge didn't. He pressed his tongue to the inside of his cheek, a sign I knew all too well. We'd ridden this merry-go-round before. We rode it every day. The Jackson County Sheriff's Department wasn't large enough to hire a media liaison so as Sheriff, Ridge filled that role. He was quick to feed me information when he needed to get the word out, and got especially tight-lipped when he didn't want the press involved.
To be fair, Ridge was a good sheriff. And the fact that extracting information from him was like pulling the proverbial teeth, probably made him an even better one. It did make my job more difficult, though. And, sometimes caused me to do a little detecting in search of the facts behind the crimes.
"Don't get me wrong," I said, spitting the words out like I was in a hurry to defend him, or explain my earlier words. "We had a rash of car break-ins a few weeks ago and I was happy to put a warning out to residents. And we always have ginseng poaching that sometimes gets out-of-hand. And of course, the…occasional murder."
I stared at the trail of condensation snaking its way down my water glass, remembering every detail of that recent murder, the scene stamped into my brain forever. The victim had been a good friend. It was hard to forget, no matter how many times I'd tried, when you were the one to find the body. I'd never in my life been more glad to have a conversation interrupted by a waitress delivering food.
"So, Charlie," I said, diving into a chicken wrap. "How'd you like the Smokies?" 
"Wait!" He and Sheila chimed in together. Charlie laughed, "You can't leave us hanging like that! What poaching? What murder? Tell me no lies!"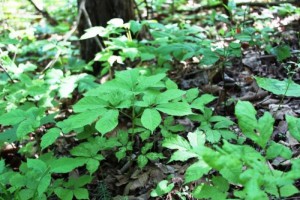 "The poaching was a big deal around here!" I launched into my tale, but left out a few details about the danger we were all in, knowing that Ridge was still not happy about how that had played out. Charlie shook his head. "That's a case we'd never get in the city." The waitress delivered some warm apple pie and Charlie nudged, "Tell us about the murder. Don't leave anything out."
I glanced at Ridge, not at all sure he wanted to talk about that case. Yup, he was scowling. I quickly changed the subject and we continued our lunch over more pleasant conversation, laughter, and a promise to keep in touch. I had no doubt we would.
~~~~~~~~~~~~~~
Lynn Chandler Willis created the newspaper owner Ava Logan character, based in no small part on her own experience in the news biz. "Tell Me No Lies," the first in the series, will debut in February, 2017, and will explain all about the ginseng poaching as well as the murder, and Ava Logan's part in both.   🙂
                                                                        Amazon link
Take a look at www.lynnchandlerwillis.com for updates about the series and Ms. Willis' other work.
Ms. Willis' Facebook Author Page
*Photo credits:
 Smokies, Ginseng, Footprint – Google
 Lynn Chandler Willis, Blue Ridge Highway – Patti Phillips
Save
Save
Save
Save
Save
Save
Save
Save