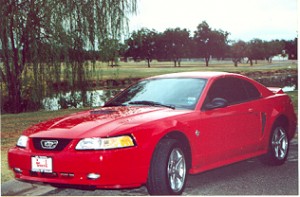 Last summer, Bridget's Mustang would not start, just as she tried to leave for the trip back to Texas. We called our trusty road travel service, but there was a problem with the tow truck people they sent out.
Read "How many tow trucks does it take?"
After a full day of waiting, making phone calls and finally, giving up hope of Bridget getting on the road anytime soon, the car was delivered to the repair shop after hours. Sadly, the story didn't end there.
A fuel pump was replaced at the repair shop before they gave up and delivered the car to the dealer down the road. The new fuel pump didn't help get the car started, but I had to pay for it anyway. The dealer discovered that it was a battery that had been the issue. They were doubtful about the need for the fuel pump, but hey – Bridget had a new one.
Read "How many mechanics does it take?"
Apparently, that was the week that never ended its gift giving.
Bridget called last night and said that the Mustang had been sputtering a bit, so she suspected coils needed to be replaced and they did. But that's not all her mechanic discovered.
The fuel pump from last year? Proved to be an after market bust and it needs replacing. Yup. After only 5,000 miles and less than a year.
This is my kid sister and I let her down by suggesting she take her prized car to be fixed at our local shop. Sheila and I feel so bad about it and the more I think about it, the madder I get.
There will be bodies. Several of them.
And I know just where to hide them. There is a big tire pile next to the woods out in back of the repair shop, along with a very large dumpster. My buddies and I will find a way.
Just kidding. Maybe. There will definitely be some loud talking.
By the way, I did some research and could not find a single case of a mechanic 'disappearing' after doing a lousy job. Looks like lots of people choose 'loud talking' over body dumping. That's probably a good thing. Otherwise, who would we get to fix our cars?
*Photos by Patti Phillips