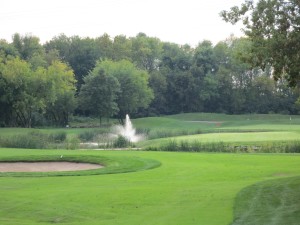 How many of you make resolutions every January and then completely drop the ball in less than a month? You promise yourself that you will lose 10 pounds, join a gym, stop texting so much, stop complaining about the boss and just change jobs…but for whatever reason, something always gets in the way.
I feel your pain. I did so badly on my 2014 resolutions that I didn't make any at all for 2015. Not a one. This year, I'm feelin' lucky. I'm more driven. I'm gonna get it done. After last year, Sheila's laughing a lot while I write this and she says I'm on my own.
Here's the 2014 list and how I did in 2015:
1. Play more golf.
It rained more than ever and I didn't want to slog through the mud, so it was actually less golf.
2. Watch more football.
Didn't happen. I had to do some needed work on the roof, the deck, the ramp, and a couple of windows and it seemed like the only sunny days were also football days.
3. Tell the Post Office not to deliver any fruitcake packages.
They did anyway. The mail gal laughed every time she dropped one off. 26 last season.
4. Take a test drive in a Ferrari 458 Italia.
Never got a chance. It rained on the day we scheduled and then the rain date was rained out.
5. Keep visiting the new Irish pub.
That I did. Great place.
6. Work with Habitat for Humanity on the houses lost during Sandy.
We were stalled by the insurance people and only worked on a few. Sadly, there were lots of lawsuits involved and many of the homeowners were not allowed to get back into the houses while the legal games continued.
7. Clean out the attic. Maybe. I may need nudging for this one.
Mostly done and then we inherited some plates and Christmas decorations and some furniture, so the attic is full again.
8. Break 90 on the golf course.
Didn't play enough. I'll save playing in the rain for the Scotland trips.
9. Clean out the attic. Sheila made me write it twice.
It was her relatives that gave us the extra stuff.
10. Get a book recommendation at www.nightstandbookreviews.com
Yup, we both did that.   🙂
2016 will be different. I acknowledge that some of my goals were too lofty and depended on the actions of other people and/or Mother Nature herself.  So, here's what I'm thinking. I will list only things over which I have control.
LOLOLOLOLOLOLOLOL
Yeah, I know that was a dumb statement, but it sounded good in my head. 😉
Here's the can-do list for 2016:
Take more naps. They're good for you.
Donate the 18 fruitcakes to my pals at the Post Office. Regifting is like recycling, right?
Buy a bigger umbrella to keep me dry.
Get a guy in to dig a trench to channel the water around the property, so that I can stop the flooding around the foundation and take more naps.
Plant a pink dogwood to improve the front view. Very calming when the view is relaxing.
Figure out a way to continue the 10,000 step program inside while it's raining outside. Maybe I'll walk a lap inside each room, add up all the steps and repeat the laps a few times a day.
Take out my photos of the golf course to remind me of what it looks like on a sunny day. Dreaming and reminiscing is good for the blood pressure.
Practice putting on the rug. It's bound to stop raining some day, and part of my short game will be ready when the golf course is no longer covered with mud and puddles.
Read more books recommended by the gal at www.nightstandbookreviews.com She's never steered us wrong.
Thank all the Kerrian's Notebook followers!!! The readership keeps on growing every year and that makes us both smile. Smiling is always good for the soul!
Happy 2016 everyone! Spread a little kindness, smile more, and make 2016 a great one.    🙂
Please follow and like us: