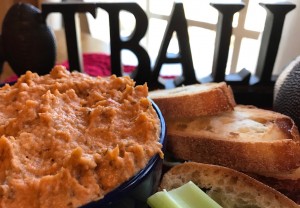 Sheila makes a great sun-dried tomato dip – lots of flavor and easy to put together, so we thought we'd add it to the munchies table for our GameDay gatherings this year. You know, the table where people graze all afternoon and evening in between the chili and pizza and sandwich snacks. Nobody ever died eating it, so we figure it's a keeper.  😉
It's been such a hit that we've been putting it out at the barbecues as well. Celery, cucumber sticks, baguette toast – they all work to scoop it up.
"Sheila's Sun-Dried Tomato Dip"
Ingredients
1 - 15 oz can Goya chickpeas
5 tablespoons chickpea water from the can
2 teaspoons chopped garlic
10 teaspoons roughly chopped sun-dried tomatoes in olive oil
½ teaspoon dried herbs de Provence
1 tablespoon extra virgin olive oil
½ teaspoon Celtic sea salt
Note: all the jars of sun-dried tomatoes in our store contained Italian spices. That's fine for this recipe, since they combine nicely with the herbs de Provence.
Instructions
Drain the chickpeas into a small bowl, saving 5 Tablespoons chickpea water.
Mix the chickpeas, chickpea liquid and the rest of the ingredients together in a food processor until well combined. About 2-3 minutes.
Chill until ready to serve or serve immediately.
Serve with toasted baguette slices, celery, or pita chips.
Enjoy!  🙂
Save
Save
Save
Save
Save
Please follow and like us: