One of our Texas friends could write a manual on how to live life to the max. She is whip smart, stays in top shape, participates in some extreme adventures, is a fabulous cook, and enjoys the great outdoors in all its glory.  She's not a big fan of gyms with weights and machines and would rather keep herself in condition by participating in activities with a physical endurance component – like frigid overnights on a mountain after trekking a few miles over challenging terrain to get there.

We chatted over dinner and she mentioned that she was enrolled at a local Krav Maga place, then invited us along to see what it was all about. She wanted Sheila to join in the class, but Sheila only had golf clothes in her suitcase, no workout gear. "Bring your camera," she said.

Krav Maga (translated from Hebrew) means contact combat. Yup. That's what the classes involve. It's a fusion of techniques from boxing, wrestling, and judo, developed for the Israeli Defense Forces, and combined with fight training – with the end goal of self-defense.

The focus is on real-world situations and learning efficient methods to fend off attacks from the bad guys and take control of the direction of the attacks. Originally developed by Hungarian-Israeli martial artist Imi Lichtenfeld in the 1930s, Krav Maga became a practical way to combine other fighting styles (including street fighting) and teach them quickly to the Israeli military. As time passed, other techniques using elbows and knee strikes, low kicks, Aikido and Jiu-jitsu were also included under the broad umbrella of Krav Maga.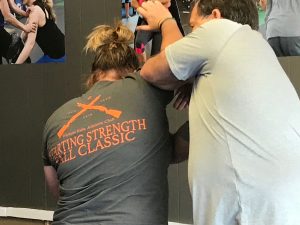 Krav Maga has a philosophy emphasizing aggression, and simultaneous defensive and offensive maneuvers. Variations of Krav Maga are now being used by military, law enforcement, and intelligence organizations around the world. The Brits and the US Marine Corps teach their own versions to their recruits.

For the average person off the street, Krav Maga teaches street self-defense using:
Punches, elbows, knees, and kicks.

Defenses against various strikes, chokes, and weapons

Realistic training drills.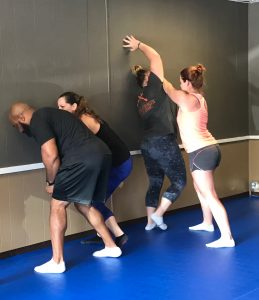 Krav Maga also promotes awareness, strength, and self-defense skills specifically for women. Some locations have classes that focus on rape prevention techniques and tactics, to build both inner and outer strength. Women can learn to spot danger signs, but also learn how to defend against common chokes, grabs, bearhugs, and other attacks, including fighting on the ground and when confronted by a weapon. This allows women to leave class feeling safe, strong, and empowered.

The instructor for the class we attended, Nick Delgadillo, emphasized to the Level 1 group that the aim is to "defend and then attack." As the class continued and various moves were practiced, the mantra, "As I'm striking, I need to improve my position," became internalized.

Krav Maga is designed to be practical and intuitive for people of any age, shape, or size.
Tips and reinforcements are delivered in a positive way throughout the class:
If you're pinned against a wall, the goal is to get away from the wall. Your hips have to move away from the wall.

If you're being choked while shoved against the wall, break the choke and get away from the wall.

If you are being pushed backwards, keep your chin tucked.

Plan for the opponent to fight back. If they are trying to rob or hurt you, you being a nice person won't stop them.




The Course
The progressive curriculum covers the most common types of attacks and threats first, to make students comfortable with using basic blocks, punches, chokeholds, and strikebacks. In later classes, students focus on more violent situations involving weapons, multiple attackers, and ground fighting. Krav Maga students work with each another in reality-based exercises, and the ambience is usually very supportive, yet goal-oriented.
What To Expect
Fully certified instructors guide training sessions and make sure that the environment is open and positive. Krav Maga is designed to teach students self-defense techniques in a short amount of time, with the goal that you should start feeling safer and more confident almost immediately. Students are taught how to react to the initial shock and paralyzing fear that comes with a sudden attack.
A quote from Nick's website:
"Defending yourself requires that you are able to make an aggressive and violent counterattack.  This is one of the ugly realities of self-defense and this is the truly hard part for nice, normal people living in the real world.  Come train with us and we'll teach you how to make an ugly face, hit hard, and go home safe."
Defense Krav Maga is located at:
4036 Kemp Blvd. Wichita Falls, TX  76308
As of this writing, classes are held:
Krav Maga – Monday, Tuesday, Wednesday, and Thursday at 5:30 PM.
Precision Striking – Tuesday and Thursday at 6:30 PM
They'd love to hear from you.  Visit the website, www.defensewf.com  to check them out.   🙂
Nick Delgadillo is a Starting Strength Seminar Staff Coach, Krav Maga instructor, and Muay Thai and Brazilian JiuJitsu practitioner.  He's been teaching people of all walks of life how to fight and lift for over 10 years.  Nick is highly effective in preparing people both mentally and physically for sport, combat, or the game of life.
Notes from Patti:
Nick's class was astounding in its content. I came away with a sense that this should be the type of self-defense class for me. If I still lived there, I would sign up in a New York minute! Bravo to Nick Delgadillo for empowering the class members, and to V. for taking me to the class.   🙂
The Kerrians are a fictional couple, but the class (V. included) and photos are real.
Photo credits:
Banner and Nick's photo at the end: courtesy of Defense Krav Maga, Wichita Falls, Texas.
Photos of the class members in action: Patti Phillips
Save
Save
Save
Save
Save
Please follow and like us: