The carved wooden Hope Chest had been stuck in a corner of the attic, forgotten for decades behind boxes of antique glassware and vintage baseball cards, neglected while the family focused on the present – school plays, golf tourneys, soccer games, Sunday dinners with the grandparents, and the occasional Antique Fair.
We were getting ready to sell the old place for Sheila's Mom and rather than take all the boxes to her new (smaller) home, it was time to sort through it, sell the stuff that Amelia had no interest in anymore, and keep the treasures Sheila knew to be up there. Sheila's parents had been antique dealers for a time and the vintage piece must have been acquired back then – a good twenty years before.
Sheila was right. The chest yielded a gold mine – items much older than the chest itself. A floor length, deep red dress from a bygone era, complete with covered buttons, and a tatted lace collar probably meant to be worn with the dress, lay at the top. Sheila lifted them carefully, the simple fabric in great shape considering its age, and set it aside, excited to find what lay beneath the tissue paper separating the outfit from the rest.
Her search yielded an old pocket watch, a pair of woman's slippers, a simple bonnet, and a fabulous find: a journal from the late 1880s. The ink in the journal was faded, but still definitely readable.
We expected to find the details of someone's daily life, telling about flower gardens and new babies and cousins coming to visit, but instead found the details of the life of somebody quite unexpected – a midwife who because of her special situation, happened to be a lady detective.
Meet Visiting Detective Rose Carroll, in a page from Rose Carroll's Journal:
"4 Third Month 1889
Dear Journal,
As part of my calling as a midwife over the past year, I have somehow found myself drawn into investigating murder, of all things. And more than once, right here in our lovely town of Amesbury, situated on the Merrimack River in the northeast corner of the Commonwealth of Massachusetts. Now that I have had a week of respite from being called out to attend women's labors in their homes, I find myself musing on exactly why these investigations should have come to pass.
After all, I am only a betrothed woman in my mid-twenties, an independent businesswoman, and auntie to five fine nieces and nephews. I am not a trained officer of the law, nor would I care to be. Imagine a member of the Religious Society of Friends being expected to carry a firearm, and worse, use it to inflict violence upon a threatening member of the citizenry!
And yet…when, as happened last summer, a young (and pregnant) member of Amesbury Friends Meeting was brutally shot under cover of the Independence Day fireworks, I became drawn into looking for answers. My midwifery mentor, the elderly Orpha Perkins, has said I have the gift of seeing, as had Friend John Greenleaf Whittier, who lives closer than a mile to my own abode. A former slave John had befriended was then arrested – falsely, I was certain – for the crime. How could I not do whatever was in my power to assist Detective Kevin Donovan in his search for the true criminal?
I am not certain what the "gift of seeing" means, but I have been told on more than one occasion that I am a good listener. As well I might be! Caring for a woman during her pregnancy, birth, and post-natal period requires as much counseling skill as it does medical expertise. Of course, I also can travel places Kevin never could – women's bedchambers – and hear secrets revealed during their travails a man would not be able to eavesdrop on in the same manner.
In recent months Kevin has grown more accepting of my occasional assistance, even seeking me out for my opinions – well, until his new Captain put the kibosh on that a few months ago. Luckily I am also Kevin's wife's midwife, and Emmaline is delighted to serve as go-between for our messages.
Now, if only solving the problem of the obstacles to my beloved's and my marriage were going as smoothly!
I do find it helps me to write to thee, dear journal, about these mysteries. I am able to better sort and arrange my thoughts, and thus better able to advise the dear detective. With that thought I shall rest, until I address thee about the next case. Because there will surely be one."
~~~~~~~~~~~~~~
Many thanks to Edith Maxwell for visiting the Kerrians through a page in Rose Carroll's journal.  What a delight to peek into the past this way.  🙂
You can read much more about Rose Carroll in Edith Maxwell's Quaker Midwife series. In addition to containing great mysteries, the series is rich with historical details. Rose is undeniably, a marvelous new character.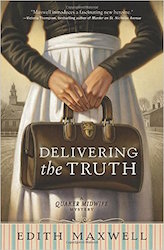 Delivering the Truth, the first in the series, has been nominated for a Macavity Award, for the Sue Feder Award for Best Historical Novel! Winners are announced at the Bouchercon opening ceremonies in Toronto in October. See my review of Delivering the Truth here.
Agatha- and Macavity-nominated and national best-selling author Edith Maxwell writes the Quaker Midwife Mysteries, the Local Foods Mysteries, and award-winning short crime fiction. As Maddie Day, she writes the popular Country Store Mysteries and the new Cozy Capers Book Group Mysteries. She is president of Sisters in Crime New England, lives north of Boston with her beau, two cats, and an organic garden, and blogs at WickedCozyAuthors.com and elsewhere. Find information about all her work at https://edithmaxwell.com/.
Look for book #2, "Called to Justice," in stores and online now.
Buy links:
https://www.indiebound.org/book/9780738750323
https://www.amazon.com/Called-Justice-Quaker-Midwife-Mystery/dp/0738750328/
https://www.barnesandnoble.com/w/called-to-justice-edith-maxwell/1123810857

Save
Save
Save
Save
Save
Save
Save
Please follow and like us: