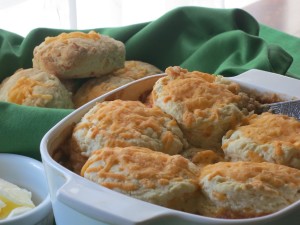 Sheila and I eat in a lot of pubs whenever we visit Ireland. The food is tasty and in most places, is real comfort food. In order to get through those damp, cold Irish winters, food needs to be the hearty stick-to-your-ribs kind. We saw Vegetable Cobbler on the menu in a Killarney pub and thought it was a misprint. After all, we eat cobbler at home, but it's always made with fruit – loads of different kinds of fruit, but always fruit.
We found out that Irish pubs rarely serve fruit cobbler and instead, go for a savory version and serve it as an entree. Until that day we had been served mashed potato topped stew and pie crust topped stew, but the gal told us that those were meat toppings. The cobbles (biscuits) are used primarily with an all vegetable stew. We learned something new every day!
Here's the recipe that Sheila came up with to use with our year round hearty vegetable dishes. She modified her regular biscuit recipe and now it reminds me of those cheesy biscuits we get at restaurants here in the States.
"Cobbles for Stew"
Prep time:
Cook time:
Total time:
Ingredients
2 1/2 cups self-rising flour
1/2 teaspoon sea salt
4 Tablespoons butter or margarine
1 cup grated sharp cheddar cheese
1 teaspoon dried oregano (or rosemary, depending on the vegetable stew seasonings)
1 jumbo egg, slightly beaten
3/4 cup milk
Parchment paper
Aluminum cookie tray
Instructions
Preheat oven to 425 degrees (F)
Mix the flour and salt together in a large bowl
Add the butter/margarine and mix together with a fork or pastry blender
Mix in 2/3 cup cheese and all the oregano (or rosemary). Set aside.
Place the milk in a small bowl.
Add the beaten egg to the milk and stir together.
Add 1 cup of milk-egg mixture to the dry ingredients and mix together to form a soft ball of dough.
Add more of the mixture if needed to include all the dry ingredients in the ball.
Roll out dough (on a lightly floured surface) to about a 1/2 inch thickness.
Use a lightly floured glass or lightly floured cookie cutter to cut two-inch circles.
Add the cobbles to the top of your stew.
Brush with leftover milk-egg and sprinkle the leftover cheese on top.
Bake at 425 degrees for 10-12 minutes or until golden brown.
We love that the 'cobbles' can also be baked on their own and eaten as an alternate bread at any meal. I taste-tested quite a few of these to make sure that the recipe was just right. 😉
If you are making the biscuit/cobbles without the stew, or have extra dough that doesn't fit on top of the stew (as we did in the photo above) line the aluminum cookie tray with parchment paper, and increase the baking time to 13-14 minutes. Eat warm right out of the oven and serve with butter/margarine.
Enjoy!
Save
Please follow and like us: