St. Patrick's Day will be here before you know it, so we are gathering our recipes and making decisions about what to cook for our own dinner and what to take to the weekend parties. Since the big day falls on a Saturday this year, we know for sure that both Friday and Saturday will be nabbed as great days and nights to celebrate.
Why did we choose Salmon Quiche for this year's entry into the tasty dishes? On each of our trips to Ireland, we visited coastal cities. The seafood is abundant and we ate some of the best fish dishes in our lives while there. The pubs on the coast offered some kind of salmon dish – entrée or sandwich or croquette – at every place we stopped. We thought it would be great to figure out a recipe that could make use of leftover cooked salmon, or canned salmon, and be adapted to appetizers or eaten at a brunch. This quiche can be both.
Slainte Mhaith! (Good Health!)
KN, p. 213 "Nobody Dies Eating Salmon Quiche"
Author:
Sheila & Charlie Kerrian
Prep time:
Cook time:
Total time:
Ingredients
Ingredients for Topping:
1/4 cup flour
1/3 cup shredded cheddar
1/8 cup chopped almonds
1/4 teaspoon sea salt
1/8 teaspoon paprika
2 Tablespoons vegetable oil
Plus....
Ingredients for Filling:
9" deep dish pie crust
3 extra large eggs, lightly beaten
1 cup sour cream or yogurt
1/4 cup mayo
1/2 shredded cheddar
1/2 Tablespoon onion powder
1/4 teaspoon dried dill
1 tablespoon Dijon mustard
14 ounces cooked salmon (we used canned salmon)
Instructions
For Topping:
Using a fork, mix together flour, 1/3 cup shredded cheddar, chopped almonds, sea salt, paprika, and vegetable oil.
Set aside.
For Filling:
Bake empty pie shell at 350 for ten minutes to reduce 'soggy bottom.' Remove from oven and set aside.
Drain salmon. Save juice. Add water to juice to make 1/2 cup.
Remove bones and skin and flake the salmon.
Blend eggs, sour cream, mayo, and salmon liquid.
Add salmon, 1/2 cup shredded cheese, onion, dill, and mustard, and stir.
Spoon mixture into pie crust.
Sprinkle evenly with topping. Cover edges with pie crust 'savers' or strips of aluminum foil to protect the crust from burning.
Bake at 350 for 45 minutes or until firm in the center and topping is lightly toasted.
Serve it with a salad and enjoy!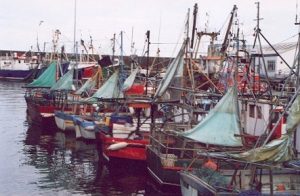 Nobody died while taste testing the salmon quiche variations. There may have been swooning and salivating, because we do love salmon.
Please follow and like us: