Travel abroad is more affordable during September and October. The airlines drop their high season prices, and package deals abound. Everybody loves a bargain and if you have a sense of adventure, travel to a foreign country might just fit into your budget at this time of year.
However, traveler beware: you might get less than you paid for and be faced with more challenges than you ever expected. Or, you might have great fun exploring new worlds.
Here are some truths about travel myths that might put that foreign trip into perspective:
Myth: everybody all over the world speaks English.
Reality: That's not even remotely true. It is likely that more English speaking people can be found in major cities in Europe (some servers in restaurants, some taxi drivers at the airports, some bank managers, some bookstore cashiers, some grocery cashiers) but be ready to do a lot of pointing to your chosen purchase when outside the tourist areas.
Myth: language apps will get you through the communication gaps
Reality: Your cellphone plan may not cover other countries, in which case you will pay roaming charges as soon as you turn on the phone in any foreign country. 24 hours a day of roaming charges. Call your phone company before you travel to see what plans are available. They are not one-size-fits-all.
PLUS, even if you have an in-country plan, there are dead zones everywhere, just like in the States. So, when you have to translate what you need for the train station ticket guy, the app may not work. Or, the guy in front of you in line may not have the app at all. During our latest trip, we missed our train connection (true story) because a guy in front of us in line could not make himself understood. The line grew longer and longer behind us.
BUT, you sputter, the ticket guys are supposed to speak English! Nope, there might be one person per shift and you might not be in the right line. Allow LOTS of extra time, because most of the countries we have visited have excellent, exactly on-time, public transportation. The train leaves the station on time, whether you are on the train or not, even if you have paid for the ticket. No refunds.
AND, the Post Office – for mailing great finds back – might not have any English-speaking employees. There are forms to fill out, so communicating about that is important. If you're nervous about sending items back, see if your hotel (or the business itself) will handle it for you.
Of course, you can take English-only tours, or hire a translator, and these should be booked well in advance.
Myth: There are taxis everywhere
Reality: Not when the taxi drivers are on strike. Yup. Happened to us on an earlier trip. The news showed pix of tourists walking with luggage long distances (a mile or more) to get from the airports to their hotels or to other transport. TAKE UBER? Not when Uber is barred from the airports and is the target of the taxi strikers. Be flexible in your travel arrangements.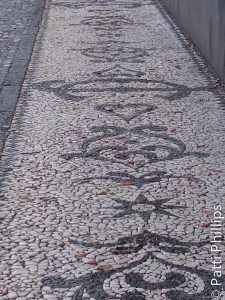 Myth: You are gonna love the food!
Reality: Years ago, a stumbling block for our possible trip to Greece was whether or not we would like Greek food. We attended a local Greek festival, loved the food, and booked the trip the next day. The country's food might be new to you, but go ahead, order menu items even if you don't know what they are. No dead bodies lying on the ground around the tables means it's probably safe to eat at that location.
I ordered codfish, salad, egg, and fried potatoes in Europe. I envisioned a piece of cod, a tossed green salad, a fried egg, and French fries. What I got was a famous local dish: mashed cod mixed in with straw potatoes and the egg. The salad was on the side. The straw potatoes are crunchy fries the size of those skinny, crunchy, chow mein noodles. The mashed cod was seasoned with a mustard flavored sauce. The straw potatoes were fried in olive oil. The plate had about two cups of the cod/potato/egg mixture piled in the middle. It was not at all what I had pictured in my mind and I questioned the waiter as to whether he had delivered somebody else's order. We figured out with my limited Portuguese and his limited English that it was the correct dish. It was delicious. Truly. I would eat it again, but other travelers seated near us were horrified and left 90% of the food on the plate.
Vegetarian dishes are tough to find on the menus. Gluten-free is a challenge in most places. Be creative in your dining choices and be willing to experiment.
Myth: A resort hotel is the only way to go
Reality: If you want to travel less expensively, remember that 'all-inclusive' does not mean the same thing everywhere. In fact, the hotel may supply cheap liquor, badly prepared food, and no off-site excursions in the 'all-inclusive' price. Ask the travel agent lots of questions.
Renting an apartment or staying at a B&B are other options, especially if you have dietary restrictions and need to have some control over your food. We've done all three, and had wonderful in experiences in each, without tripping over any bodies anywhere. Promise.
Myth: You can travel with your prescription medication as long as you keep the meds in the original container and have a paper copy of the prescription with you.
Reality: We followed all the rules and an over-the-counter cold medicine (sold in their country) packed in the suitcase, was confiscated by the foreign country officials. No idea why.
Travel outside the country is an adventure. You learn astonishing things about the rest of the planet – culture, language, religion, incredible food, politics – and can witness some of the most majestic sights on Earth.
Book that trip! Be surprised. Be flexible. Fall in love with the world.  🙂
Please follow and like us: