Lots of taste testing went into this pie crust. A lighter crust that we use for fruit pies did not stand up to the weight of a meat and veggie pie, but this one stays tender and has great flavor as well.
Pair it with the Chicken Pot Pie recipe here.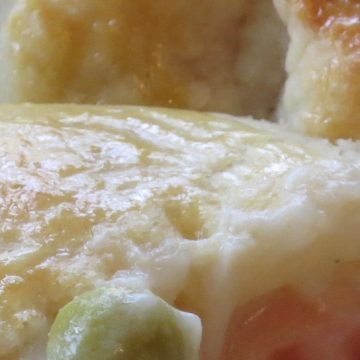 Pie Crusts for Double Crust Meat Pies
Ingredients
2 1/2

cups

unbleached all-purpose flour

2

Tablespoons

sugar

1

teaspoon

sea salt

1

cup

butter (16 Tablespoons) cut into 1/4 inch cubes

6

Tablespoons

very cold water

Egg yolk wash (one yolk and 2 Tablespoons water lightly whisked together) 
Instructions
Use food processor to briefly pulse together flour, sugar, and sea salt.

Add cubed butter and pulse together until size of small peas.

Add water and pulse together until dough forms.

Remove dough, (no need to chill) divide in half, flour dust work surface and roll out each half until 1/8 inch thick – makes two 11-12"rounds.

Place one in 9" pie pan and set aside the other (on parchment paper for best results).

Make chosen filling and spread evenly onto bottom crust.

Cover filling with top crust and crimp two crusts together to seal in filling.

After the pie has been created and the two crusts have been crimped together, brush the top and edges with the egg yolk wash before baking.

Follow pie directions for baking time and temperature, baking until golden brown.

Remove from oven and let sit for about 10 minutes for easier slicing.
Enjoy!
Please follow and like us: