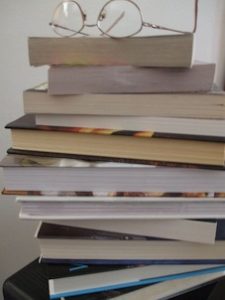 2021 was a great year for the Kerrian's Notebook subscribers to win a book (or two if they also subscribed to Nightstand Book Reviews. Winners were chosen randomly during quarterly drawings, using random.org. The winners were then notified through Facebook and/or the email addresses they had provided. A list of at least ten books was sent to the winners, from which they picked their prize(s). The majority of the books have been (and will continue to be in 2022) mysteries, thrillers, and novels of suspense, in keeping with the Kerrian's Notebook theme. Many of the books were stay-awake reads, many were bestsellers, some were donated by the authors, and some were passed along to other readers.
Looking for a great read? Take a look at the terrific books the Kerrian's Notebook subscribers chose in 2021:
Ellie Alexander "Mocha, She Wrote"
Kate Atkinson "Transcription"
Steve Berry "The Malta Exchange"
Terri Blackstock "Night Light"
Bethany Blake  "Something Borrowed, Something Mewed"
Laura Bradford "Assaulted Pretzel"
Laura Bradford "Suspendered Sentence"
Eileen Brady "Saddled with Murder"
Allison Brennan "Cold as Ice"
Sandra Brown "Smash Cut"
James Lee Burke "New Iberia Blues"
Lee Child "61 Hours"
Lee Child "Echo Burning"
Lee Child "One Shot"
Lee Child "Running Blind"
Karen Cleveland "Need to Know"
Bruce Coffin "Within Plain Sight"
Brandilyn Collins "Violet Dawn"
Sheila Connolly "Murder at the Mansion"
Cate Conte "Witch Hunt"
Patricia Cornwall "Scarpetta"
Bernard Cornwell "The Archer's Tale"
Robert Crais "The Wanted"
Jessie Crockett "Drizzled with Death"
Jeffery Deaver "Skin Collector"
Robert Dugoni "8th Sister"
Robert Dugoni "Extraordinary Life of Sam Hell"
Jessica Estavao "Whispers Beyond the Veil"
Alice Feeney "I Know Who You Are"
Joanne Fluke "Chocolate Cream Pie Murder"
Joanne Fluke "Cinnamon Roll Murder"
Joanne Fluke "Wedding Cake Murder"
William R. Forstchen "48 Hours"
Robert Galbraith "Lethal White"
Tess Gerritsen "I Know A Secret"
Christie Golden "Stars Wars: Inferno Squad
Sue Grafton "W is for Wasted"
Mark Greaney "Agent in Place"
JD Griffo "Murder at Veronica's Diner"
Victoria Hamilton "Bran New Death"
Sherry Harris "From Beer to Eternity"
Jane Harper "Force of Nature"
Jane Harper "The Lost Man"
Erin Hart "Haunted Ground"
Noah Hawley "Before the Fall"
Dee Henderson "Danger in the Shadows"
Dee Henderson "Protector"
Dee Henderson "Rescuer"
Julia Henry "Digging Up the Remains"
Gregg Hurwitz "Into the Fire"
Gregg Hurwitz "Out of the Dark"
JA Jance  "Field of Bones" 
Iris Johansen "The Shattered Mirror"
Jan Karon "To Be Where You Are"
Philip Kerr "Greeks Bearing Gifts"
Jayne Ann Krentz "Promise Not to Tell"
Con LeHane "Murder at 42nd St Library"
Linda Lovely "No Wake Zone"
Debbie Macomber "Window on the Bay"
David Maraniss "When Pride Still Mattered"
Steve Martini "Guardian of Lies"
Kate Moretti "Thought I Knew You"
TJ O'Connor "Dying for the Past"
Richard Osman "The Thursday Murder Club"
Katherine Hall Page "Body in the Birches"
Gigi Pandian "Artifact"
B.A. Paris "Bring Me Back"
Louise Penny "How the Light Gets In"
Thomas Perry  "The Burglar"
Richard Preston "Hot Zone"
Reference "Malicious Intent"
JD Robb "Connections in Death"
MJ Rose "Cartier's Hope"
Barbara Ross  "Sealed Off"
Carla Rossi "Unlikely Praise"
Hank Phillippi Ryan "Her Perfect Life"
John Sandford "Bloody Genius"
John Sandford  "Easy Prey"
John Sandford "Naked Prey"
Michael Sears "Tower of Babel"
Sarah Shaber "Simon Said"
Karin Slaughter "Fractured"
Karin Slaughter "The Last Widow"
Alexander McCall Smith "A Distant View of Everything"
Danielle Steel "The Good Fight"
Brad Thor  "Takedown"
Charles Todd "Racing the Devil"
David Weiden "Winter Counts"
Andy Weir "Project Hail Mary"
Jeri Westerson "Booke of the Hidden"
Tina Whittle "Blood, Ash & Bone"
Lynn Willis "Unholy Covenant"
Beth Wiseman "Listening to Love"
Happy Suspenseful Reading in 2022!
Please follow and like us: