We owe many of our Halloween celebrations to the Irish and Scottish immigrants who arrived in the United States in the 1800s. For centuries in England, it was the custom to travel from house to house dressed in scary outfits, asking for food in order to keep the goblins from doing mischief.
When I was in elementary school, my dad told us to repeat the phrase "Trick or treat?" and be prepared to demonstrate a trick if asked. Imagine my shock when I was actually asked to perform my trick by a neighbor who knew my dad and had recognized me in my pirate costume. Over the years, 'cabbage night' was added to the Halloween events. Cabbage night played out on the night before Halloween as a way for the local high schoolers to prank the neighbors. Toilet paper was sometimes involved, along with chalk, soap, and eggs. One year, the local grocery store refused to sell eggs to anyone under 21. Somebody had too many broken eggshells to clean up and protested to the unsuspecting suppliers.
Somewhere along the way, adults decided that if the kids could have parties, why couldn't grownups do it as well, but instead, substitute hard apple cider for the kiddy stuff. But, as the adult parties grew in popularity, so did the size of the parties and the mischief that invariably comes with big crowds.
In 2019, the NY Post reported that there were only 21 days in 2018 that saw more crime reports than Halloween. That night, there were 277 cases of petty theft and numerous cases of people damaging graves and creating graffiti around the city.
In a suburb of Chicago in 2021, two people were killed and 12 more were injured when men with guns opened fire on a late-night costume party with almost 200 guests in attendance. It was one of at least 11 mass shootings (four or more dead – not including the shooter) in the US over that holiday weekend. In Albuquerque, New Mexico, police reported two dead and four injured during another Halloween shooting.
Grownups can get out of hand and I often wonder where their supervision is…
How do we keep the kids safe?
Some police departments recommend that children trick-or-treat between the hours of 6 and 8 p.m. Check the other safety suggestions listed below:
Make sure costumes are short enough to allow for easy walking.

Consider non-toxic makeup instead of masks, which are hard to see out of.

Take flashlights to light the sometimes dark sidewalks.

Eat only the candy that has been commercially wrapped. 
Best tip? Make sure the kids look both ways before crossing the street to get to the 'best candy' house on the other side. Getting hit by a car tops the list as the most dangerous thing that happens to children on Halloween.
In this post-pandemic world, more children will be out and about on Halloween, hopefully with parents somewhere close. In 2021, our neighborhood had crowds of people during the fave hour from 7pm to 8pm. The parents dressed up as well and sometimes a family theme was evident. Great fun for everyone.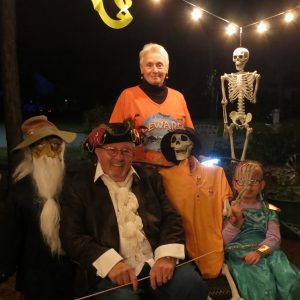 Be safe and enjoy!
Please follow and like us: