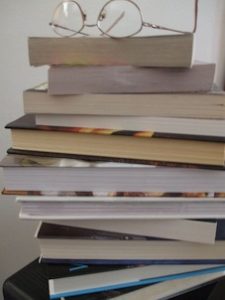 If this article has no paragraph separations, please double-click on the title. That will create a more readable version.
2022 was another great year for the Kerrian's Notebook subscribers to win a book (or two if they also subscribed to Nightstand Book Reviews. Winners were chosen randomly during quarterly drawings, as well as the special tenth anniversary drawing, using random.org. The winners were then notified through Facebook and/or the email addresses they had provided. A list of at least ten books was sent to the winners, from which they picked their prize(s).
The majority of the books have been (and will continue to be in 2023) mysteries, thrillers, and novels of suspense, in keeping with the Kerrian's Notebook theme. The books were purchased at indie bookstores, brick & mortar chain bookstores, and a delightful gently-used-hardcover bookstore about 40 miles from here. Many of the books were stay-awake reads, many were bestsellers, some were donated by the authors, and some were passed along to other readers. Because of the participation of our Kerrian subscribers, we were able to give away 147 books in 2022!
Tell your friends! If they subscribe, and let us know that you referred them, you get a free book (from a 2023 list). Looking for a great read? Take a look at the terrific books the Kerrian's Notebook subscribers chose in 2022:
Megan Abbott  "The Turnout"
Ellery Adams "Murder in the Cookbook Nook"
Donna Andrews "Toucan Keep A Secret"
Mary Kay Andrews "The Newcomer"
Jan Arnow "By Southern Hands"
David Baldacci "A Gambling Man"
Alex Berenson "The Power Couple"
Bethany Blake "Midwinter's Tail"
Rhys Bowen "Four Funerals and Maybe A Wedding"
Laura Bradford "Plus One for Murder"
Allison Brook "Death Overdue"
Ellen Byron "Bayou Book Thief"
Marc Cameron "Open Carry"
Jack Carr "The Devil's Hand"
Lee Child "The Enemy"
Laura Childs "Broken Bone China"
Laura Childs "Haunted Hibiscus"
Hope Clark "Dying Edisto"
Mary & Carol Higgins Clark "Deck the Halls"
Ann Cleeves "Cold Earth"
Hillary Clinton "What Happened?"
Harlen Coben "Win"
Matthew Cole "Code Over Country"
Megan Collins "Family Plot"
Cate Conte "Purrder She Wrote"
Cate Conte "Witch Trial"
Bernard Cornwell "The Empty Throne"
Bernard Cornwell "Flame Bearer"
Bernard Cornwell "Vagabond" (2)
Patricia Cornwell "Autopsy"
Janet Dailey "Quicksand"
Krista Davis "Murder Outside the Lines"
Maddie Day "Grilled for Murder"
Vicki Delany "Deadly Summer Nights"
Nelson DeMille "The Cuban Affair"
Maria DiRico "It's Beginning to Look a Lot Like Murder"
Richard Doetsch "Chaos"
Jessica Ellicott "Murder Comes to Call"
Alex Erickson "Death by Coffee"
Alex Erickson "Death by Hot Apple Cider"
Janet Evanovich "Fortune & Glory"
Janet Evanovich "Recovery Agent"
Janet Evanovich-Steve Hamilton "The Bounty"
Amanda Flower "Farm to Trouble"
Joanne Fluke "Apple Turnover Murder"
Joanne Fluke "Blackberry Pie Murder"
Joanne Fluke "Choc Chip Cookie Murder"
Joanne Fluke  "Christmas Cupcake Murder"
Joanne Fluke "Christmas Dessert Murder"
Joanne Fluke "Triple Chocolate Cheesecake Murder"
Vince Flynn "Enemy at the Gates"
Pope Francis "Happiness in This Life"
Robert Galbraith "Cuckoo's Calling"
Kellye Garrett "Like a Sister" (2)
John Gilstrap "High Treason"
M.K. Graff "Death at the Dakota"
Sue Grafton "U is for Undertow"
Scott Graham "Arches Enemy"
Scott Graham "Yosemite Fall"
David Grann "Killers of the Flower Moon"
Kimi Grant "These Silent Woods"
Mark Greaney "Relentless" (2)
John Grisham "A Time for Mercy"
John Grisham  "Sooley"
John Grisham "The Judge's List"
Tamron Hall "As the Wicked Watch"
Sherry Harris "A Time to Swill"
Michael Hayden "Playing to the Edge"
Alice Henderson "Blizzard of Polar Bears"
Dee Henderson "Full Disclosure"
Dee Henderson "Healer"
JA Hennrikus "Christmas Peril"
Julia Henry "Pruning the Dead"
Julia Henry "Wreathing Havoc"
Elin Hilderbrand  "Golden Girl"
Erin Hilderbrand "The Hotel Nantucket"
Lee Hollis "Murder at the Bake Sale"
Julianne Holmes "Just Killing Time"
Colleen Hoover "It Starts With Us"
Miranda James "12 Angry Librarians"
Craig Johnson "Daughter of the Morning Star"
Craig Johnson "The Dark Horse"
Robert Jordan "The Dragon Reborn"
Diane Kelly "Batten Down the Belfry" (2)
Diane Kelly "Dead in the Doorway"
Mira Lyn Kelly "Just This Once"
Sherrilyn Kenyon "Death Doesn't Bargain"
David Klass "Out of Time"
William Kent Krueger "Iron Lake"
Donna Leon "Temptation of Forgiveness"
Linda Lovely "Bad Pick"
Debbie Macomber "Jingle All the Way"
Nina Mansfield "Swimming Alone"
Margaret Maron "Rituals of the Season"
George RR Martin "Nightflyers"
Leslie Meier "Christmas Cookie Murder"
Brad Meltzer "The Lightning Rod"
Taylor Moore "Down Range"
Dale Nelson "A Legitimate Businessman"
Carlene O'Connor "Murder at an Irish Christmas" (2)
Carlene O'Connor "Murder in an Irish Bookshop"
Carlene O'Connor "Murder in an Irish Cottage"
Robert B. Parker "Stone Cold"
James Patterson "The 5th Horseman"
James Patterson & Mike Lupica "The Horsewoman"
Louise Penny "Madness of Crowds"
Anne Perry "Death with a Double Edge"
Jodi Picoult "Wish You Were Here"
Jordyn Redwood "Proof"
JD Robb "Abandoned in Death"
JD Robb "Desperation in Death"
JD Robb "Forgotten in Death"
Nora Roberts "A MacGregor Christmas"
Nora Roberts "NightWork"
Nora Roberts "The Awakening"
Nora Roberts "Year One"
James Rollins "Bone Labyrinth"
James Rollins "Starless Crown"
MJ Rose "Book of Lost Fragrances"
Barbara Ross "Fogged Inn"
Barbara Ross "Muddled Through"
Barbara Ross "Jane Darrowfield and the Madwoman Next Door"
Rosemarie Ross "Christmas Candy Corpse"
Gretchen Rubin "The Happiness Project"
John Sandford "Certain Prey"
Lisa Scottoline "What Happened to the Bennetts?"
Sarah Shaber "Louise's Dilemma"
Daniel Silva  "The Cellist"
Daniel Silva "The Order"
Daniel Silva "The Rembrandt Affair"
Alexander McCall Smith "Distant View of Everything"
Nicholas Sparks "The Wish"
Daniel Steel "Flying Angels"
Jake Tapper "Devil May Dance"
Brad Taylor "End of Days"
Brad Thor  "Black Ice"
Brad Thor "Spymaster"
Colm Toibin "The Magician"
Donna VanLiere "The Christmas Star"
David Weiden "Winter Counts"
Kirsten Weiss "Pie Hard"
Don Winslow "The Cartel"
Wm. Paul Young "The Shack"
Please follow and like us: