Professional sports seasons are several months long, what with pre-season, in-season, and playoff games to watch. If you have a favorite team, and whether your buddies agree or loudly disagree with your choice, weekends can involve lots of noisy gatherings. Whether parked in front of the TV or at a tailgate party, in our opinion it's not possible to watch a game without great food.
When we're in the mood for Mexican flavors, Quesadillas hit the spot. We keep the prep simple and pick up a cooked chicken at the store. The filling can be made ahead of time, then left in the fridge for a day until we're ready to put the tortillas on the griddle or in a large frying pan.
This recipe is for two 10" quesadillas, with combined servings for 2-4 people.
Quesadillas
Equipment
Large, flat bottom frying pan with lid

large bowl

Wide spatula
Ingredients
1

Tablespoon

Vegetable Oil

1/2

cup

Red Bell Pepper, diced

1/2

cup

Green Bell Pepper, diced

1/2

cup

Celery, diced

1

teaspoon

Garlic

1

teaspoon

Onion

1

teaspoon

Sea Salt

2

cups

Roast Chicken, shredded or diced

1/4

cup

Chilies

1/2

cup

Mayo

4

extra large

Flour Tortillas (10" burrito size)

2

cups

Shredded 4 Cheese Mix

1

cup

Black Beans, cooked
Instructions
Place vegetable oil in frying pan, on medium heat.

Add red bell pepper, green bell pepper, celery, garlic, onion, and sea salt and stir until well mixed.

Lower heat, cover and cook until celery translucent, about 5 minutes, then remove from heat.

Place diced/shredded chicken in large bowl, add cooked peppers, celery, chilies, and mayo and stir together.

Place one extra large tortilla in frying pan and turn heat to low medium.

Sprinkle 1/2 cup shredded cheese evenly over tortilla, leaving an inch all around the edge bare.

Divide chicken mix in half and place one half on top of cheese, spreading evenly, leaving an inch all around the edge bare.

Spread 1/2 cup black beans evenly on top of chicken mix.

Sprinkle 1/2 cup shredded cheese on top of black beans.

Place second tortilla on top.

Cover and let cook for about 3-4 minutes until bottom tortilla begins to brown and cheese begins to melt.

Using the wide spatula, carefully flip the entire quesadilla in order to brown the other side.

Cover again and continue to melt the cheese and brown the tortilla, another 3-4 minutes.

Uncover the quesadilla, slide onto a large plate and divide into four pieces.

Repeat the entire process to make the second quesadilla.

Serve with chips, salsa, guacamole, and whatever else you like to pair with your quesadillas.
Notes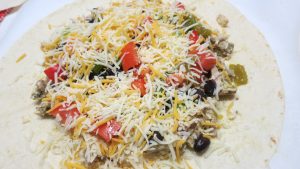 The bottom tortilla may shrink while cooking, but so will the other tortilla when flipped. Cook each side the same amount of time and they will be the same size when done.
The photos show chicken as well as beef quesadillas.

Beef quesadilla ingredients: Eliminate the celery and the mayo from the chicken quesadilla list above and substitute a pound of browned ground beef for the roast chicken.
Beef quesadilla instructions: Exactly the same as the chicken quesadilla, minus the celery & mayo and using ground beef instead of the chicken.

Enjoy!
Please follow and like us: