Thinking of moving to Ireland?
And you think joining the Garda might be a good idea?
And you think you're in great physical shape?
Consider this: before any candidate can be included in the final group of applicants, he/she must pass a test for physical endurance, known as The Physical Competence Test, in addition to the Shuttle Test. As I mentioned in the previous article, "An Garda Siochana, the Irish National Police," there were recently over 60,000 applicants, so competition is tough. To give you an idea of the requirements, the Garda website provides this chart for the Shuttle (also called Beep test) so that you can compare your capabilities to the expected norms:
MINIMUM Standards for the Shuttle Test (running back and forth in a gym – 20 meters (about 65 feet) in each direction – the levels indicating how many round trips you should make within a set time)
| | | |
| --- | --- | --- |
| Age | Males | Females |
| 18-25yrs | Level 8.8 | Level 7.6 |
| 26-35yrs | Level 8.1 | Level 6.6 |
MINIMUM Standards for the 'Sit Up' Test (one minute) 
| | | |
| --- | --- | --- |
| Age | Males | Females |
| 18-25yrs | 35 | 30 |
| 26-35yrs | 32 | 27 |
MINIMUM Standards for the 'Push Up' Test (no time restriction)
| | | |
| --- | --- | --- |
| Age | Males | Females |
| 18-25yrs | 25 | 20 |
| 26-35yrs | 22 | 18 |
Physical Competence Tests –
This part of the physical test demonstrates whether the candidate is capable of chasing after a suspect, and then, once the suspect is caught, struggle with him/her in order to make the arrest. Because, trust me, if you can't do this part of the test, you won't make it as a street cop.
Part 1 – the Obstacle Course
You have three minutes and 20 seconds to get around the course three times. Go!
After a running start,
Weave through cones

Walk along a balance beam

Lift a car wheel and carry it 3 meters (about 9 feet)

Go underneath a barrier

Jump over a mat

Drag a 45kg (about 100 pounds) mannequin 2 meters (about 6 feet)

Run up and down stairs

Climb over a gate

Sprint 10 meters (about 30 feet)
Slower than 3:20? You fail.
Part 2 – the Push-Pull Machine Test
What's the maximum force you can muster? This test indicates how strong you are when you're battling against a suspect who doesn't want to be caught – after you've chased him/her for several minutes through the alleys.
Stand on platform, gripping handlebars at chest height, with feet apart and one foot in front of the other

Push and pull the handlebars through the required stroke continuously for 20 secs using entire body to push and pull as hard as you can.

The force you exert is measured and recorded on the computer system

A video detailing the Physical Competence Test can be found here. https://www.youtube.com/watch?v=uXo3roYoCUw&feature=youtu.be
Assessment Process
Get past this pre-screening stage and there are a number of tests to eliminate the possibility of the unqualified becoming a Garda Trainee. If you pass each of the interviews, psych evaluations, personality questionnaire, language proficiency assessment, report writing tasks, written tests, medical exam, and physical tests, (and anything else the powers-that-be deem necessary) and rank high enough on the list of qualified applicants, you might become a Garda trainee. If so, you would attend the Garda college to complete the first 34 weeks of your training. After that, you will have both supervised and unsupervised field training, with periodic rigorous testing along the way. It will take about two years to finish, but at the end, you will attain a BA in Applied Policing.

Garda College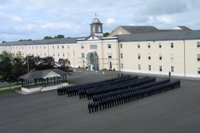 The Garda College is the national center for police training, development and education within the Irish State. The coursework is divided into two major sections, Operational Training and Crime Training.
Operational Training consists partly of: 
Driver Training
Candidates learn to drive the official vehicles and based on operation needs, may also learn to drive vans, 4×4 vehicles, motorcycles, and H.G.V.s
Firearms Training
After initial firearms training, if hired, the candidates permitted to carry  firearms must take refresher firearms training three times a year. They are checked for Range Safety, Weapon Safety and accuracy. They also receive tactical training, as well as how to use non-lethal weapons such a tasers.
Constitutional, Human Rights & Diversity Office
Candidates become familiar with the proper way to handle incidents that may involve human rights, diversity as well as any possible constitutional violations.
Communications and Information Technology Training
Candidates study:
      A.F.I.S. (Automated Fingerprint Identification System)
      A.V.P.L.S. Automatic Vehicle Personnel Location System)
      C.A.D. (Computer Aided Dispatch)
      CCTV
      I.C.C.S. (Integrated Communications Control System)
      MOS computer Program skills
Rannóg na Gaeilge
If needed, candidates learn and become proficient in the Irish language.
Crime Training consists of:
Foundation Training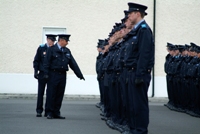 Students learn in small groups with realistic policing re-enactments and must use the group discussions to solve the problems, just as would be done in actual policing.
During this basic training, candidates would:
Improve overall knowledge of the crimes committed in their jurisdictions.

Gain practical skills to manage crime and policing incidents.

Learn to police a diverse bilingual community
Develop skills needed for traffic issues (checkpoints, drink/drug driving etc.)
Train in Garda station duties, including prisoner management

Learn practical skills with retractable baton, hinge handcuffs, pepper spray, and self-defense tactics
Crime Training
Crime Training used to be known as the Detective Training School. These days it incorporates the Garda Technical Bureau, the Forensic Science Laboratory, and even some outside agencies. Also studied: Basic Fire and Arson, Money Laundering, Financial Crime, and Drug Awareness.
Additional course work or refresher courses are available for the police after they have served in the field for three years (or if the local station has a need for it) in: Fingerprints, Photography, Forensics, Ballistics, Documents, Mapping, and Forensic Law.   
Investigative Training
Special Investigative Training is handled here for Family Liaison Officers as well as for the Road Security Criminal Interdiction Awareness Program.
Interview Training
The Garda Síochana Interview Model has four different levels, ranging from basic questions of witnesses, to serious and complex investigations, including those involving sex crimes. 
After a fairly rigorous combination of classwork, supervised and unsupervised field work, along with continuous testing during the two years, graduating candidates are able to work in Community Policing, Traffic Control, Public Order, Detective Duties, investigating Organized Crime, Fraud and Drugs Offenses.
"Crime prevention is everybody's business," a quote from the Garda site, is a motto they promote to all the candidates, as well as the community at large.
How does this training compare with that of your local law enforcement agency?
*All photos from www.garda.ie
Save
Save
Save
Save