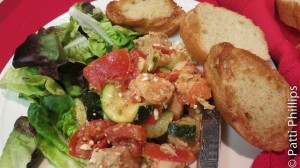 Sheila left me on my own for dinner.
I know. I'm a big boy and I could always have fired up the grill or ordered take-out if I needed to. But, I was on a mission to prove that I could throw together something tasty that did not involve cooking over hot coals.
I opened the fridge and found some cooked chicken cutlets (Sheila never leaves an empty refrigerator) and I scrounged around for other stuff to mix with the chicken.
Zucchini from the garden, tomatoes from the neighbor, and feta cheese left over from the Greek Salad we had for lunch. My mouth was watering already.
Easy dish, combining fresh produce and leftovers. Sheila gave me a thumbs-up when she saw the photo. Try it and let me know what you think.  🙂
Kerrian's Notebook, p.112 "Chicken Vegetable Feta Stir-fry"
Prep time:
Cook time:
Total time:
Ingredients
2 cooked chicken cutlets, cut into 1 inch chunks
2 cups raw zucchini, cut into 1 inch chunks
2 small tomatoes, cut into 1 inch chunks (about 2 cups)
1 Tablespoon olive oil
1 teaspoon onion powder
1 teaspoon garlic powder
1 teaspoon oregano
1 teaspoon fresh squeezed lemon juice
3 Tablespoons crumbled feta cheese
Instructions
Saute chicken, spices and veggies in the olive oil, until heated through.
Tomato will start to disintegrate in about 8-10 minutes.
Stir frequently.
Add 2 tablespoons feta cheese and stir until cheese starts to melt.
Remove from heat and place directly on plates.
Sprinkle 1 tablespoon feta cheese over finished dish.
Serve warm.
Makes two generous portions.
Please follow and like us: