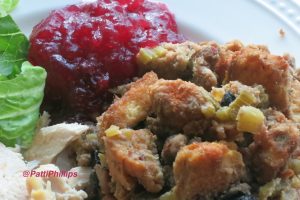 Did somebody say stuffing?
Sheila and I eat roasted poultry all year round, so we have a go-to stuffing recipe. We mostly alternate between turkey or Cornish game hens for the various holidays and this is our favorite, flavor-filled stuffing.
You're going to love it! (and we promise that nobody ever died after eating one of our stuffed birds)

"Kerrian's Chestnut-Sausage Stuffing"
Prep time:
Cook time:
Total time:
Ingredients
6 Tablespoons butter
2 cups celery, diced
2 cups finely chopped onion
1 cup chopped, cooked chestnuts (available seasonally pre-packaged, already shelled & cooked)
4 slices lightly toasted potato bread, cut into 1 inch cubes – about 4 cups
1/2 pound mild Italian sausage – about 1 cup
2 cups thinly sliced fresh Portobello mushrooms - about 2 medium caps
1 teaspoon garlic powder
1/2 teaspoon mild paprika
1 teaspoon sea salt
One jumbo egg, lightly beaten to moisten the stuffing
Instructions
In a heavy frying pan, add butter, celery and onion and sauté on medium heat until light golden brown – about 30 minutes, stirring occasionally. Set aside.
Drain and chop chestnuts, medium fine. Set aside.
Remove stems from mushroom caps, peel darkened skin from caps, then slice caps into thin (quarter inch) pieces. Set aside.
Lightly toast bread in toaster, let stand in toaster to dry out bread for five minutes, then cube.
Squeeze meat out of sausage skin and sauté in a second pan, breaking up the meat with a large spoon just until no longer raw. Do not overcook.
Remove sausage and in same pan, sauté mushrooms just until colored, add paprika and garlic powder and mix with mushrooms.
Lightly beat the jumbo egg in a small bowl, add sea salt and continue to mix until well blended.
Combine all ingredients in large bowl and stir until well mixed.
The cooked stuffing can be stored in the refrigerator or frozen if left over.  The recipe makes enough for a 16 pound bird. We've also served it as a side dish (when we're serving chicken legs) and baked it in a buttered pan, covered with a glass lid in a preheated 350 degree oven for 25-30 minutes.
Sheila says to tell you that this is the basic recipe. "It has a well-rounded flavor, ready to use with any poultry. If you'd like to add herbs to the mix in order to complement a savory chicken or Cornish hen, do so with care. Just add a teaspoon of your favorite (sage or thyme or rosemary) to the basic recipe, being careful not to overpower the other flavors on your menu."
I told you she's a great cook!
*Photo by Patti Phillips
Please follow and like us: