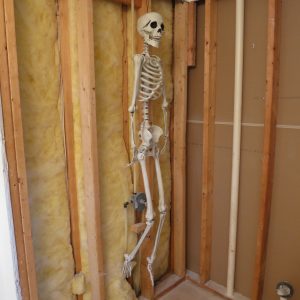 More bodies seem to pop up on TV at Halloween than at any other time of year. Cop shows usually add a spooky element to body discovery, with ghostly noises and haunted-house sound effects. Standards & Practices (network oversight departments that determine whether certain material is appropriate for public viewing) apparently looks the other way during October when a bit more blood and gore is added to the crime scenes.
One popular plot hook is to stow bodies in a wall. In general, the fictional bodies are discovered by accident when a building is being demolished, but in a second season episode of a Canadian P.I. show, Private Eyes, "Brew the Right Thing," a family brewery is the target of repeated sabotage. An investigation into the puzzling incidents leads to the P.I.s swinging sledgehammers into a wall constructed decades before.
Why stow the bodies inside a wall? It would seem safer for the perpetrator to remove the body from the scene of the crime and bury it elsewhere. But consider this scenario: perhaps the murder was a crime of passion and the perpetrator had not planned to 'off' anyone at a construction site. A confrontation got out of hand and somebody wound up dead. Not wanting to go to jail, the perpetrator seizes the opportunity right in front of him, grabs some plastic tarp, and rolls the body into it. An unfinished wall turns into a burial hideaway.
Let's take a look at the restrictions of hiding a body at home inside a wall with the help of Kelley, our resident 5-foot skeleton. Standard two-by-four studs actually measure about 1 1/2 inches by 3 1/2 inches. Kelley is 5-6 inches thick, front to back through the sternum. Sooooo, unless the victim's ribs have been crushed, his chest will poke out past the studs, requiring an adjustment to the hiding place.
Note: the normal distance between most studs is 16-24 inches. A big man's shoulders wouldn't fit straight in the narrower space, even discounting the thickness of the chest.
In a Hawaii 5-0 (modern version) 4th season episode, "Buried Secrets," a wall is extended out into the room to create a thicker wall space that accommodates a body. More than one TV or movie crime boss has had his/her henchmen place new drywall over dead snitches, even using abandoned real estate properties as a final destination.
The assumption is that nobody will find the body once it's in the wall. Honestly, there is really no reason to think otherwise, unless the criminals are caught in the act while mudding the drywall, or a guilty party is overcome with remorse and points a finger, or a homeowner decides to knock down a wall during a renovation.
Death in Paradise, a super popular British series, featured a disgruntled husband who buried his wife in the patio cement, after much was made of the construction site at his remote house. That cement truck raised no suspicions.
Other popular spaces to stuff a fictional TV body:
The bottom of an elevator shaft
The bottom of a dumb waiter
Cinder block construction
Foundation cement at a new construction site
Imagine the guys on This Old House discovering a body while doing a big remodel. They might start using thermal imaging devices to thoroughly inspect walls and foundations before agreeing to take on new projects. (this is not meant to imply that there ever was a body found on a This Old House site)
Has your favorite mystery/crime show featured a body-in-the-wall plot? Let us know in the comments below. 
Please enjoy a safe, Happy Halloween! 
Photos: by Patti Phillips
Please follow and like us: