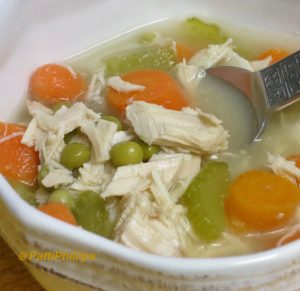 Honestly, it's been odd doing the grocery shopping during this time of shortages. I head to the usual aisles for the produce and find a ready supply of celery and carrots, but not always potatoes of any kind. Fresh onions and garlic? None in sight for days. Our store makes rotisserie chicken every day, so when we can't find raw chicken in the meat section, we grab a cooked garlic roast chicken which can serve four hungry people – more if you make soup with it.
We picked this soup recipe for Kerrian's Notebook because the ingredients have been available every day, no matter which large grocery store we visit. We've made it several times during the last three weeks, so it's definitely been taste-tested. Adjust the spices to your family's palate.
"Easy Chicken Soup"
Author:
Charlie & Sheila Kerrian
Prep time:
Cook time:
Total time:
Ingredients
1 32ounce box of low sodium chicken broth (Swanson's has a nice organic version)
1 teaspoon sea salt
1.5 cups sliced fresh baby carrots
1.5 cups diced fresh celery, 1/4 inch pieces
1 cup canned diced potatoes
1/2 cup potato water from diced potato can
1 heaping teaspoon garlic powder
1 heaping teaspoon onion powder
1 cooked rotisserie chicken
1/2 cup canned young sweet peas
Instructions
In large soup pot, sprinkle sea salt evenly on bottom of pan.
Add carrots, celery, and one cup of the chicken broth, cover the pot and simmer on medium high heat until carrots and celery are tender, ten to fifteen minutes, stirring every five minutes.
While celery and carrots are simmering, chop the rotisserie chicken into 1/2 inch pieces, (about 3 cups) and set aside.
Reduce heat to medium, add diced potatoes, potato water, garlic powder, and onion powder to pot and stir.
Add 3 cups chicken broth to the pot and stir.
Add 3 cups chopped chicken to the pot and stir until well mixed.
Cover pot and heat soup mixture for about ten minutes until it bubbles around the edges, stirring occasionally.
Add peas to the pot, tossing gently, and heat another five minutes.
Remove from heat and serve with crusty bread or crackers.
As with any home prepared food, the leftovers keep for up to four days in the refrigerator.
Good news: it can be frozen in individual portion containers, and freezing extends the shelf life for two weeks. So double the recipe and you'll have enough for another night. You might want to add more chicken broth when reheating.
Enjoy!
Please follow and like us: