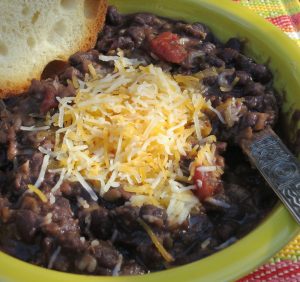 This year our football and baseball playoff parties may be at home, but it's still time for great food, easy to make for a group of ten.
We both like black beans in several dishes, so we decided to make black bean soup, but added diced tomatoes and lentils for texture and color. This soup is so thick that it can be used as a topping for rice or pasta.
I ate it like chili, in a bowl, and there was very little soupy liquid. Don't want it that thick? Just add water.
"Black Bean Lentil Soup"
Author:
Sheila and Charlie Kerrian
Prep time:
Cook time:
Total time:
Ingredients
4 cups water (add another cup for a thinner consistency)
1 ½ Tablespoons sea salt
1 cup Bob's Red Mill Vegi-soup Mix – dry (or 1 cup uncooked lentils)
6 15 oz. cans black beans (not soy)
1 15 oz. can fire roasted diced tomatoes with garlic
1 4 oz. can chopped green chilies
1 Tablespoon garlic powder
1 Tablespoon onion powder
2 teaspoons chili powder
Instructions
Spray large soup pot with canola pan spray (for easier clean up).
Add water, sea salt, and dry vegi-soup mix.
Cover pot and bring to boil. Boil for 20 minutes, stirring occasionally.
Remove from heat.
Add black beans, diced tomatoes, chilies, garlic powder, onion powder, chili powder, and stir until well mixed, then return to heat.
Cover pot and cook on medium for about an hour, until lentils are tender.
Stir frequently to keep beans from sticking.
We made so much while testing the recipe, that I gave some to the neighbors to try. They lived. Promise!  🙂
This one bubbles and pops, so keep the lid on.
Optional garnish: sprinkle shredded cheese on top.
Options:
Add meat and/or serve over rice/pasta for a delicious, filling, main dish.
A scoop on top of a baked potato would be delish!

Watch the game, and enjoy!  🙂
Save
Save
Save
Save
Save
Save