There are lots of great people in law enforcement and Kerrian's Notebook is just the place for you to meet them in a friendly, non-threatening environment. We caught Becki Green in between cases and she even had time to share her fave brownie recipe with us. Sheila gives it a big thumbs-up as an easy recipe. I give the brownies a thumbs-up for taste. They went great with my coffee.  😉
Meet Becki Green.
Thank You For Inviting Me, What Can I Bring?
"Charlie," I ask, "is being a visiting detective anything like being a visiting professor? If I remember correctly from my college days, visiting professors give guest lectures and— Are you choking, Charlie? What? Not what you're looking for? Not at all? Then maybe I could…uh…"
Oh, hello everyone! I'm Rebekkah Green, Vegetarian Detective. Please call me Becki. I assume you all know what a sweetie Charlie Kerrian is. Today he's been so kind as to invite me to guest here on his blog. Thank you, Charlie, and I'm so pleased to meet you all.
The timing of this invitation couldn't be more perfect because A Purse to Die For—the very first mystery novel in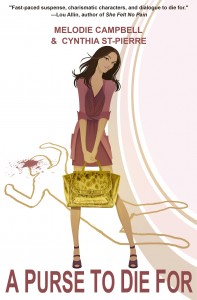 which I'm the loyal sidekick—is one year old this month. It's something I really want to celebrate with you! Because, you see, you've already given me the very best present I could ask for: publisher Imajin Books confirmed that A Purse to Die For is a best-seller. Thank you very, very much.
So what can I bring to the party? Something I can share with you all in gratitude? I'm thinking…what's a party without food? How about I bring my famous 100% veggie Brownies?
"Charlie, don't worry, there's not a speck of broccoli in them. I was just joking. All desserts are vegetarian."
There, a single lit candle on top of my virtual Brownies…I'm making a wish…that I meet you again when you pop in sometime at www.vegetariandetective.blogspot.com.

♥ Becki
Visiting Detectives - Becki Green's Brownies
Prep time:
Cook time:
Total time:
Ingredients
1 cup butter
3 oz unsweetened chocolate, chopped
1/2 cup cocoa
2-1/2 cups sugar
3 eggs
1 tbsp vanilla
1-1/2 cups flour
3/4 tsp salt
icing sugar
melted butter for parchment paper
Instructions
Line a 9" X 13" baking pan with parchment paper, and brush with melted butter.
Preheat oven to 350º F.
In a large pot, on low heat, and watching carefully, melt together the butter and chocolate.
Remove from heat, and stir in the cocoa and sugar.
Add the eggs and vanilla, and beat until smooth.
Fold in the flour and salt.
Fill the prepared pan, smooth the top, and bake for 40 min.
Cool, run a knife around the edges, flip over on a cutting board, turn out, and while the Brownies are upside-down, cut into 16 servings.
Turn each brownie upside-right, and sift icing sugar on top.
*Photo of the yummy looking brownie taken by Becki Green at her house. All ours are gone.
Save
Please follow and like us: