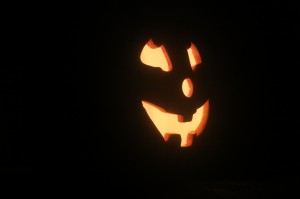 Worried about your personal safety on Halloween? Afraid to leave your house unguarded, because of potential break-ins while you're at the party across town? Think crime spikes on Halloween?
Seriously? That may depend on where you live, what day of the week Halloween occurs and whether or not it's cold that night. Apparently, criminals don't like to go out on cold and rainy nights any more than we do.
A Columbus, Ohio, TV program – Crime Tracker10 – looked into safety on Halloween in 2013, wondering if there were more break-ins while people were out trick-or-treating. And they found nothing remarkable at all, just some underage drinking, and occasional theft. They had to look back at statistics from several years ago to find anything as serious as disorderly conduct on the books. They did find that the area police departments traditionally put on extra patrol officers that night. A visible cop presence may be enough to keep the unfriendlies at home for the night.
http://www.10tv.com/content/stories/2013/10/31/crimetracker10-halloween-crimes.html
Boston area residents don't seem to have the same experience. The numbers on this chart published by the Boston Globe shows violent crime rates in the city during a four-year period. "The evening violent crime count on October 31 is about 50 percent higher than on any other date during the year, and twice the daily average." Pretty grim. I would stay home or drive my kids to a party, walk them to the door, and not do any neighborhood trick-or-treating.
A website devoted to information about forensics colleges found that certain areas of the country focus on prevention of specific Halloween crimes:
Orlando, Florida – on the alert for adults wearing masks

Georgetown, Washington, DC – watching for burglars

South L.A. – watching out for children running from between parked cars

Lompoc Valley, CA – flamingo flocking (those plastic lawn flamingoes are used as a way to refocus Halloween energy. You can pay to have a bunch of flamingos put on lawns or pay 'insurance' to keep from getting 'flocked.' (It's a fundraiser for the PAL)

San Luis Obispo – increases the staff for the night and doubles the fine for certain offenses
http://www.forensicscolleges.com/blog/resources/halloween-crime-in-10-cities
Halloween is celebrated all over the world, and in 2013, a reporter in the UK looked into Halloween crime in the USA. He found some pretty nasty cases, but I'll only chat about two. You can read about the rest by clicking on the link.
1) A nine-year-old girl dressed in a black costume, complete with black hat and white tassel, was accidentally shot by a relative who thought she was a skunk. She was outside her house in Pennsylvania when he fired a shotgun, hitting her in the shoulder, arm, back and neck.
I don't know about you, but all the nine-year-olds I ever met were at least four times the size of the biggest skunk I've ever seen. The report did not mention whether alcohol was involved.
2) When people in Delaware saw a body hanging from a tree in 2005, they assumed it was a Halloween decoration. Nope. By the time anyone realized that it was actually a dead woman, she had been there for three hours.
By Anthony Bond: http://www.mirror.co.uk/news/uk-news/halloween-2013-eight-real-life-2657825
I doubt that I will be able to pass an outdoor Halloween display again, without checking to see that the scarecrows really are made of straw.
Stay safe everyone and have a Happy Halloween!
Save