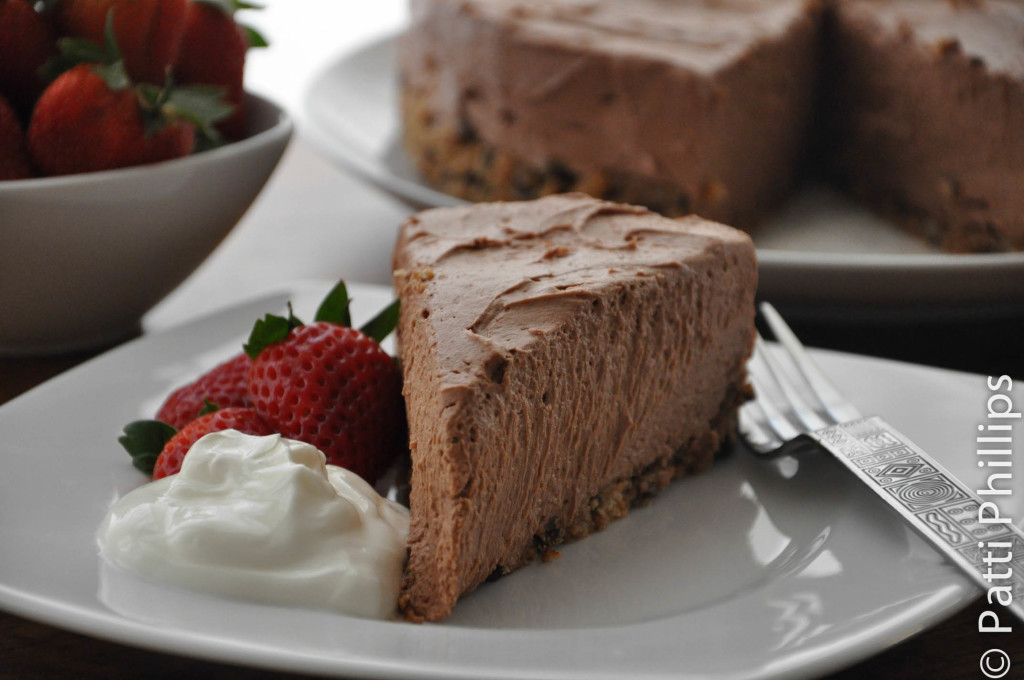 We always serve special desserts on holiday weekends, whether we are having an all day BBQ, guests at a special meal, or a sit-down dinner after church. Sheila and I work as a team on the desserts. She bakes them and I do the taste-testing while she works on the balance of sugar and chocolate. Teamwork pays off!
Sunday's recipe is a creamy chocolate cheesecake. Sheila says that it was easy to make. It was easy to eat the samples.
Kerrian's Creamy Chocolate Cheesecake
Ingredients
Vegetable oil for springform pan (I use almond oil)
20- 2" chocolate chip cookies
4 Tbs butter (salted)
10 oz. Ghirardelli milk chocolate baking chips
10 oz. Ghirardelli semi-sweet chocolate baking chips
1/3 cup extrafine sugar
12 oz. whipped cream cheese
1 pint heavy cream
2 Tbs. Bailey's Irish Cream
sour cream and fresh fruit (picture shows strawberries)
Instructions
Line the bottom of the pan with parchment paper and wipe the sides with oil. Crush the cookies with a rolling pin. Melt the butter in a sauce pan, remove from heat, then stir in the crushed cookies. Press the cookie/butter mixture into the bottom (and ½ inch up the sides) of the prepared pan. Chill in refrigerator for at least 30 minutes.
Place all the chocolate into the top of the double-boiler, with gently simmering water in the bottom. Melt the chocolate, stirring frequently until thoroughly blended. Remove from heat.
Add sugar and cream cheese to the mixing bowl and beat on lowest speed until smooth. Slowly add the heavy cream and beat on the lowest setting until thick and creamy. Slowly add the melted chocolate and continue to beat on lowest setting until thoroughly blended. Scrape down sides and bottom of bowl and beat again. Add Bailey's and mix until blended. Mixture should now have thick pudding consistency.
Spoon into the springform pan and then level surface with butter knife or spoon. Chill in refrigerator for 2-3 hours (until very firm). Transfer to cake plate and serve with fresh fruit and sour cream. Also nice with ice cream.
Kitchen tools/supplies to have on hand for this recipe:
8" springform pan,
Parchment paper,
Pot with double-boiler insert,
Standing electric mixer with large bowl & paddle attachment
Recipe variations:
If you don't own a springform pan, or are not comfortable using one, the recipe will also work nicely in a 9" deep-dish disposable pie pan. Press the cookie crumb/butter mixture into the bottom and up the sides of the unlined disposable pan, then follow the rest of the directions as written.
Spoon any extra filling into ramekins, chill, garnish with fruit, and serve as individual desserts.
*This recipe first appeared on chocolate guru Janet Rudolph's site: www.DyingforChocolate.com
*The photo was taken by Patti Phillips. We promise that no bodies have ever been discovered in Kerrian's Kitchen. 😉